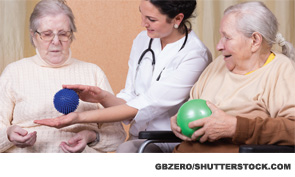 Gout is an inflammatory arthritis associated with hyperuricemia. According to recent data, the prevalence of gout and hyperuricemia in U.S. adults has been increasing over the past 20 years, with current estimates of 3.9% and 21%, respectively.1 New research has put focus on the interplay of hyperuricemia, gout and metabolism. Patients with gout and hyperuricemia contend with a high prevalence of comorbidities, including hypertension, renal disease, obesity, diabetes mellitus (DM) and cardiovascular disease, as well as the metabolic syndrome (MetS).2 In this review, we focus on the association of hyperuricemia and gout with metabolic derangement, including the MetS, DM and obesity.
Metabolic Syndrome
The MetS, as defined by the 2001 Adult Treatment Panel III criteria, includes abdominal obesity, hypertriglyceridemia, low high-density lipoprotein (HDL) cholesterol, high blood pressure and high fasting glucose. NHANES data estimate the prevalence of the MetS at a striking 22.9%.3 Debate persists as to whether uric acid (UA) has a causative role in the MetS and should be considered in the guidelines, vs. simply being a marker of metabolic derangement.4-6
ADVERTISEMENT
SCROLL TO CONTINUE
Recent evidence from NHANES III demonstrates a graded increase in prevalence of the MetS with higher UA: 18.9% prevalence for UA <6 mg/dL, compared with a prevalence of 70.7% for UA ≥10 mg/dL.7 Even among patients with normouricemia (UA <7 mg/dL in men and <6 mg/dL in women), both the overall prevalence and individual components of the MetS increase with higher UA levels still within the normal range.8 This link between UA and MetS is even noted in children and adolescents as young as 12 years of age.9
The association between UA and the MetS is uncontested, but the cross-sectional nature of these studies makes it difficult to ascertain if UA has a causal role in MetS or is a mere consequence. Several prospective cohort studies sought to shed light on this topic. Sui et al noted a higher rate of incident MetS with increasing UA categories, reporting men in the upper third of UA levels as having 60% higher odds of developing MetS,4 which supports data obtained from both Korean and Chinese populations.6,10 The presence of hyperuricemia prior to MetS onset led the authors to conclude that UA levels predict the risk of MetS. Table 1 outlines selected studies demonstrating the association between increasing UA levels and MetS. Clinically, elevated UA levels may herald MetS; however, further interventional studies would be beneficial to definitively determine whether increased UA directly causes MetS.