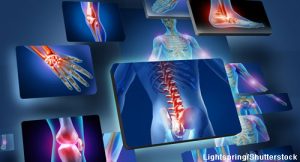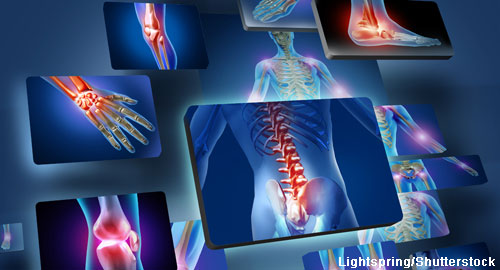 EULAR 2021—Although osteoarthritis (OA) is the most common form of arthritis, advances in its treatment have been few and far between. During EULAR 2021, Xavier Chevalier, MD, professor of rheumatology at Paris University XII and head of the Rheumatology Department at Henri Mondor Hospital, Créteil, France, provided an excellent overview of what's new and interesting in the field of OA.
Non-Pharmacologic Treatments
Dr. Chevalier began his presentation by asking: Is non-pharmacologic management sufficient to treat OA? A study from Reichenbach et al. assessed the impact of individually calibrated biomechanical footwear therapy on improving pain and physical function in patients with symptomatic knee OA. A total of 220 patients were randomized to receive and wear shoes with individually adjustable, external, convex pods attached to the outsole or a sham model of this shoe style with visible, nonadjustable outsole pods that did not create a convex walking surface. The study's primary outcome was the change in knee pain at 24 weeks of follow-up as assessed by the Western Ontario and McMaster Universities Osteoarthritis Index (WOMAC) pain subscore.1
In this study, patients in the intervention group saw their WOMAC pain subscore improve from 4.3 to 1.3, while patients in the placebo group saw a subscore change from 4.0 to 2.6, translating to a between-group difference of –1.3 (95% confidence interval [CI], –1.8 to –0.9; P<0.001). Although this difference was statistically significant, Dr. Chevalier noted the clinical importance of these findings is not entirely clear.
The next question: Do adaptations in types of exercise improve knee OA? A study by Allen et al. described the use of a stepped exercise program for patients with knee OA (STEP-KOA). The STEP-KOA intervention began with three months of an internet-based exercise program, followed by three months of biweekly, physical activity coaching calls and, finally, in-person physical therapy visits. Patients who did not meet the response criteria for improvement in pain and function at each step were guided into the subsequent step in therapy. This intervention group was compared with a control group that received written arthritis educational materials by mail.2
At nine months of follow-up, the estimated improvement of WOMAC total score was –5.5 points in the STEP-KOA group and 1.4 in the arthritis education group, with an estimated mean difference of -6.8 between groups (95% CI, –10.5 to –3.2; P<0.0003). Similar to the first trial he described, Dr. Chevalier explained the inter-group difference in WOMAC scores was statistically significant, but modest overall.
Patients often ask about supplements, such as glucosamine & turmeric, & dietary interventions & the role they may play in management of OA, said Dr. Chevalier.
Supplements
In terms of pharmacologic therapies for OA, Dr. Chevalier noted one study from 2020 reported an association of regular glucosamine use with lower mortality, including all-cause, cardiovascular, cancer, respiratory and gastrointestinal mortality measurements. The biologic mechanism that may explain this association is inhibition of nuclear factor-κB, which may reduce inflammation and trigger a response similar to that seen with a low-carbohydrate diet in animal models.3