As a graduate student and biostatistician in the Musculoskeletal Research Center at the Institute for Aging Research of Hebrew SeniorLife, Boston, Alyssa B. Dufour was unsure where to focus her research interests.
Enter experienced preceptor, Marian T. Hannan, DSc, MPH.
Dr. Hannan, associate professor of medicine at Harvard Medical School in Boston, has a long and successful history as a preceptor for health professional graduate students through the ACR Research and Education Foundation (REF) Preceptorship program. This experience has given Dr. Hannan an eye for spotting talent, and she thought Dufour would be an excellent preceptee candidate for the REF program because of her statistics background. "The specific skill set can be invaluable to a rheumatology research lab," says Dr. Hannan.
Dr. Hannan's research group had been working on several biomechanics and shoe-related projects when Dufour arrived, and she jumped right into this area when she joined the research group. One project, "Foot Pain: Is Current or Past Shoewear a Factor?", found that women who wore shoe styles that were classified as "good" footwear—athletic and casual sneakers—were less likely to have hind foot pain later in life.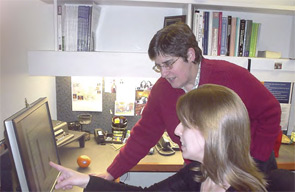 Dr. Hannan and Dufour working at the Institute for Aging Research of Hebrew SeniorLife.
Because of its findings, the study has received a lot of attention. Dufour, who was the lead author on the abstract and the subsequent paper published in Arthritis Care & Research,1 says she is "excited to see that their project has become so quickly and directly translatable to positive health outcomes." Dr. Hannan agrees, saying, "Researchers don't always get to see firsthand the direct effect their findings have on the public, so this project was particularly rewarding."
Dufour says that, "Dr. Hannan is a wonderful mentor because she is genuinely interested in my career. I'm not just a short-term project or another student in her research group. She sees my success as a measure of her own and goes above and beyond to make sure that I am growing and advancing."
Dufour, who presented a workshop at the 2008 and 2009 ACR/ARHP Annual Scientific Meetings on statistical methods, would like to continue using her statistics background for rheumatology research, possibly focusing on bone density as a hip fracture predictor.
"My goal is to become a rheumatology health professional who combines an excellent biostatistics background with a clinical understanding to produce methodologically and analytically sound musculoskeletal research," says Dufour.
To learn more about how you can help a promising young researcher or clinician join the world of rheumatology, visit www.rheumatology.org/REF.
Reference