Marian Hannan Celebrated after 10 Years as AC&R Editor-in-Chief
By Kelly April Tyrrell
This summer, the 10-year tenure of Marian Hannan, MPH, DSc, as editor in chief of Arthritis Care & Research (AC&R), has come to an end. Kelli Allen, PhD, assumed the post on July 1.
ADVERTISEMENT
SCROLL TO CONTINUE
"Marian has done a fantastic job over the past 10 years, and I want to continue to grow the journal," says Dr. Allen, professor of medicine in the division of rheuma­tology, allergy and immunology at the University of North Carolina School of Medicine, Chapel Hill, and a research career scientist at the Durham VA Medical Center. "A lot of it is maintaining the strong position it's in."
And that strong position is due, Dr. Hannan's friends and colleagues say, in no small part to the hard work, open-mindedness, and unique perspectives that Dr. Hannan invited during her two terms at the helm of ARP and ACR's multidisciplinary research journal.
ADVERTISEMENT
SCROLL TO CONTINUE
"Marian was president of the ARP when I first met her, and she was so open and welcoming," says Carol Oatis, PT, PhD, professor emeritus of physical therapy at Arcadia University, Glenside, Pa. "That's one of the traits that makes her such a great editor. She wants to hear about what people are doing. She's got a boundless curiosity."
Serving as AC&R's top editor was, Dr. Hannan says, "the best job I've ever had—and I have had some really good jobs."
Dr. Hannan is an epidemiologist with a focus in rheumatology (epidemiology, she says, is a field most people did not understand until the COVID-19 pandemic). She earned her undergraduate degree from the University of California, Berkeley, and in 1981, her Master's in Public Health at the Yale University School of Medicine, New Haven, Conn. She graduated in 1995 from Boston University School of Medicine with an epidemiology doctorate.
ADVERTISEMENT
SCROLL TO CONTINUE
Today, Dr. Hannan is a professor in the Department of Epidemiology at Harvard T.H. Chan School of Public Health, a professor of medicine at Harvard Medical School and Beth Israel Deaconess Medical Center, and a senior scientist at the Marcus Institute for Aging Research at Hebrew SeniorLife in Boston, where she co-directs the Musculoskeletal Research Center.
She has worked since the 1980s to uncover patterns of disease and improve population-
level outcomes.
"My focus has been on osteoarthritis. What used to be called a wear-and-tear disease we now know is not because epidemiology has done a really great job of redefining components of the disease," she says. "Epidemiology groups together what buckets people fall into, better describes those buckets and describes the minute details where we can make a difference."
Dr. Hannan didn't set out to become an epidemiologist, nor one with an interest in rheumatic disease.
"I came of age when medical school was very difficult to get into and required deeper pockets than what I had available," she explains. "Yet epidemiology required about all the same science background and worked under the same physiologic processes, but at a population level. Statistics is your medical kit instead of the stethoscope physicians have."
She describes herself as a "nosey parker," which made the investigative nature of epidemiology all the more appealing.
"Pick any outcome or disease you like and dive into what happened and how to make it better for groups of patients," Dr. Hannan says. "Physicians focus on individuals. Epidemiologists focus on groups … so what [we] epidemiologists do—and what we do again and again—is look at patterns and then we do an exquisite painting of those patterns so we can look at what to do next."
After earning her master's degree, Dr. Hannan went to work for the Massachusetts Department of Public Health, examining the environmental causes of birth defects and other diseases. "But with the political environment of the 1980s, they had cut back on public health funding, and they got rid of a lot of jobs at the state level," she says. "Mine was one of them."
Her next job happened to be one in rheumatology. "I cast my net and rheumatology found me," she says. "We have uncovered a lot since the 1980s and '90s, and now in the new century we are learning a lot about rheumatology."
As editor-in-chief of AC&R, she continued to take her net-casting to heart. She made it a priority to "learn more about experts and find very cool studies."
Dr. Hannan achieved that, Dr. Oatis explains, by attending national meetings, including the ACR's annual meeting, and listening in on a diversity of talks and presentations. She was always on the lookout for new and important research findings and would attend poster sessions and talk to a broad range of people who were there sharing their work.
Dr. Oatis eventually became an associate editor of AC&R during Dr. Hannan's leadership and found that Dr. Hannan equipped her team to adopt a similar mindset.
"She was interested in what was going on and she asked us all to do the same," Dr. Oatis explains. "She created sticky notes for each of her associate editors to put on posters we found interesting. We would talk to the author and encourage them to submit [to the journal]. That was her leadership."
This approach reflected some of Dr. Hannan's most critical values. She wanted the journal's editors—from a broad range of fields in rheumatology—to "explore strange new worlds," she says.
"I like to find new ways of doing things and one of the core beliefs I have is that communications are key to making things better," she says. "We'd bring our scientific interest to (researchers) and say, 'Not only are you doing cool work, but we want to help you communicate out to people what your work is.' What are the ways we can communicate and connect with people who have a good scientific story we want to tell?"
It was a model that helped the journal grow and reach new audiences, bringing returns on investment as new contributors saw themselves represented among the journal's offerings and sent in their submissions.
Dr. Hannan's inclusive perspective also extended to the journal's editorial board, Dr. Oatis notes. "She encouraged diversity and she empowered people to expand on that."
Leslie Crofford, MD, Wilson Family Chair in Medicine and professor of pathology, microbiology and immunology at Vanderbilt University, Nashville, Tenn., served on the journal's board during Dr. Hannan's first term and became her deputy editor during Dr. Hannan's second. Dr. Crofford called her "a dream to work with."
"We talked early in her first term and in her second about how we can reinforce that AC&R is a journal that belongs to the ACR and the ARP. It's our journal. … Our best work should be published in the journal, and Marian spearheaded being present and being visible," says Dr. Crofford, who is also a professor of medicine at Vanderbilt. "Marian says: 'We want you and your work.'"
As editor in chief, Dr. Hannan was passionate about building community among rheumatologists and rheumatology specialists and researchers, Dr. Crofford adds.
"We represent a wide readership and need to ensure voices are heard and we have them at the table," says Dr. Hannan. "A focus for me was to have physician authors and people like multidisciplinary physical therapists and nursing researchers. We are one of a few journals I can think of that serves such a wide audience."
She was also mindful of the perspectives of up-and-comers in the field, including fellows who brought both new ideas and a craving for fresh information.
In thinking back on her decade of publishing, no singular research studies stand out to Dr. Hannan. Rather, she says: "It's the way that we tell the story and pull it apart that stands out." She also talks about the ways in which the journal innovated and grew with the science for which it's been tasked with showcasing.
"Science has taken great leaps and bounds in terms of the toolbox," Dr. Hannan says. "We've gone beyond just a screwdriver and a hammer to having an incredible toolbox with which to understand things." Coding skills she honed in graduate school nearly two decades ago are now performed by second graders in the classroom, for example, and computers capable of running complex statistical programs no longer take up entire rooms.
Yet the job of a journal editor is never without challenges. For Dr. Hannan, these were primarily concentrated in a couple of areas—some of them financial and some of them political.
"Funding has become a hardship," she says. "Very high quality research that is incredibly pertinent is taking longer to get to us because research funding is taking a hit … there is so much great science worth investigating and a need to report it, and … scientific breakthroughs are not as easy as they would have been if we had the funding we had 10 years ago."
And, of course, she notes, there is the COVID-19 pandemic, which has carried its own unique challenges.
But Dr. Hannan is confident she leaves AC&R in good hands with Dr. Allen. "Kelli is incredibly fabulous and incredibly smart and well versed in all things having to do with rheumatology and will be an incredibly fabulous editor-in-chief," she says. "My main mantra every day was 'Don't screw up the great foundation handed me by the editors who came before me … Kelli is ready to rock and roll, and I couldn't ask for a better person to follow in my footsteps."
With the close of her chapter at AC&R, Dr. Hannan is under no illusion she will suddenly find herself with an abundance of time on her hands. She will continue to teach at Harvard Medical School and T.H. Chan School of Public Health, and she will continue to write her own papers and reviews for epidemiology and rheumatology journals.
She says that while taking up a new hobby, such as making stained glass or salsa dancing, sounds fun, she is really looking forward to slowing down, even if only a little. "I am a family-oriented person, so having time to have dinner with people, particularly family and friends, or sitting in the backyard gardening … or sitting in a hammock, how can I relax and have fun and be with the people I want to be with?"
Dr. Crofford is also looking forward to that time with her. Over the years, she and Dr. Hannan have become good friends.
Many, it seems, can say the same.
Tuhina Neogi, MD, PhD, Now Alan S. Cohen Professor of Rheumatology at Boston University
By Gretchen Henkel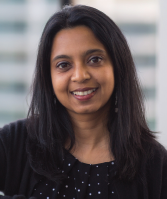 During a virtual award ceremony in February, Tuhina Neogi, MD, PhD, chief of rheumatology and professor of medicine and epidemiology at Boston University School of Medicine, was celebrated as she was named the Alan S. Cohen Professor of Rheumatology. Dr. Neogi has built a strong national and international reputation as a researcher in osteoarthritis (OA) as well as gout, with over 250 publications to date. She is currently conducting a large, longitudinal study of pain sensitization in those with knee OA, and a large-scale evaluation of crystal deposition in knee OA using dual-energy computed tomography.
Serendipity often plays a role in research breakthroughs, she said when accepting the award. But when "pulling back the curtain" to reveal the components of success, she noted, it's clear that mentors, leaders and strong collaborations pave the way for scientific advancements. Viewing her prodigious output of journal articles, multiple awards and collegial partnerships with mentors as well as mentees, it's also clear that purposeful work and intelligence have met with serendipity throughout her education and career.
Foundations of Success
Science was an early interest for Dr. Neogi, and at her public high school in Toronto, she found herself surrounded by peers who were academically oriented and who supported and encouraged each other. "Back when I didn't know what peer networking was, I already had a successful peer network," she reflects. Through her friends, she learned about a program that matched high school students with scientists at the University of Toronto.
Accepted into the program, Dr. Neogi spent time each week in the research laboratory of neuroscientist Arthur Roach, PhD, who is now director of research at Parkinson's UK. During her second year of university undergraduate work, she worked with biochemist Charles Deber, PhD, at the Hospital for Sick Children (also known as SickKids). It was "really exciting," she says, to participate in research he was doing in cystic fibrosis, recalling her first positive "hit" in a site-directed mutagenesis experiment of the CFTR gene.
In addition to her excitement about laboratory research, clinical medicine beckoned, and she went on to obtain her MD from the University of Toronto in 1998. Her first exposure to clinical research in medical school was with Amit Oza, MD, then an oncologist at the Princess Margaret Hospital, and now head of the Division of Medical Oncology and Hematology at the Ontario Institute for Cancer Research, Toronto.
Later, as a rheumatology fellow, Dr. Neogi worked with pediatric rheumatologist and physician scientist Rae Yeung, MD, PhD, who mentored her through her first presentation when her abstract was accepted at an ACR annual meeting. Before her presentation at the meeting, she recalled, Dr. Yeung accompanied her to the podium, showed her how to advance the slides and—even more importantly—how to lower the microphone to her height. (That was an emblematic moment that Dr. Neogi has carried through, she says, whenever she is mentoring other women.)
Dr. Neogi says that what she most appreciated about all of these early mentors was the fact that they took the time to both teach and encourage her in her pursuits. "Those experiences were very positive," she says, "I don't know whether, without them, I would have continued trying to pursue research in my career."
Direction Change
Dr. Neogi's primary research interest during her rheumatology fellowship was vasculitis, and she fully intended to pursue that path as a basic scientist. However, she encountered another pivotal opportunity: in 2002 she applied for her first grant, a research fellowship award sponsored by the Arthritis Foundation that allowed her to travel to Boston University (BU) for clinical research training.
Interestingly, her first collaboration with David T. Felson, MD, MPH, chief of the clinical epidemiology research and training unit, was his assistance in helping her write that grant that allowed her to obtain training under his mentorship. With the support of the University of Toronto, Dr. Neogi relocated to Boston University, and thrived in the environment of apprenticeship and teamwork fostered by Dr. Felson. She quickly decided, with his encouragement and that of Yuqing Zhang, PhD, to acquire a PhD in epidemiology. Her work advanced from this point, as she began to hone in on research in OA and gout.
In the years since her fellowship, she has had continuous peer-reviewed funding. Her first study on pain in OA was published in BMJ and recognized by the Osteoarthritis Research Society International (OARSI) at its 2009 annual meeting as the leading clinical research paper of the year.1 Multiple awards have followed, including a 2011 OARSI Young Investigator Award and the ACR Henry Kunkel Young Investigator Award in 2014.
Dr. Neogi has been deeply involved with international and regulatory organizations, serving as past chair of the FDA Arthritis Advisory Committee; on the boards of OARSI and the Gout, Hyperuricemia and Crystal-Associated Diseases Network (G-CAN); and on committees for the ACR and the International Association for the Study of Pain (IASP). She has also led ACR treatment guideline development for gout and OA.
Collaborations Abound
Dr. Neogi extolled the teamwork of her section of rheumatology—"we're like an orchestra, a well-oiled machine," she says—and praised the unified work ethic they share. "There's no one single person that outranks everyone else—everyone rolls up their sleeves to get the work done for the success of the whole group." Dr. Neogi became chief of that section in 2019.
Dr. Neogi has continually expanded collaborations outside of her immediate BU community. For example, she credits Bob Terkeltaub, MD, at the University of California, San Diego, for launching her into gout research. He recommended that she write a gout review for The New England Journal of Medicine, which opened another opportunity for her.2 Now many of her gout and crystal arthritis collaborators are in New Zealand and Europe. Dr. Neogi extended her research in pain sensitization to hand OA through collaboration with Ida Haugen, MD, and her research group in Norway.
Many of her recent collaborations have been with her now-former mentees, including Joshua Stefanik, PT, PhD, Daniel White, PT, PhD, and others. From 2014–19, Dr. Neogi was facilitator and steering committee member for the Mentor Training Program, involved with the development of the training program and facilitating sessions. She has now provided mentorship in musculoskeletal disease-related research for 31 trainees/junior faculty, and has mentored 18 awarded career development grants. She was recognized for her mentoring with the 2016 Robert Dawson Evans Research Mentoring Award, and has received a NIH grant focused on mentoring.
Representation Matters
Dr. Neogi recalled that during her time at the University of Toronto, there were many positive female role models. "It never occurred to me that I wouldn't be able to do this [work] because all around me I saw women in leadership positions—as the dean of medicine, chair of medicine, or program director—being successful in research, and being nationally and internationally recognized for their work."
But when she moved to Boston University from Toronto, Dr. Neogi was the only female and sole person of color in the division faculty. Five additional female faculty members are now in the section of rheumatology. There are many programs at the institutional level to increase support of women and faculty from backgrounds underrepresented in medicine, such as the Women's Leadership Program, a Mid-Career Leadership Program, and an Underrepresented Group (URG) Leadership Program. As New England's largest safety net hospital, the institution prides itself on serving the underserved. Dr. Neogi serves on the Diversity and Inclusion Advisory Council on the medical campus.
"We have explicit conversations about diversity and equity and how we can best serve our patients," she says.
In fellowship interviewing, "we're making strides on how to make our decisions in a less biased manner," she adds. Applicants are interviewed by at least four different people, including the program director, and standardized questions are used. And, if applicants are identified as being from a background underrepresented in medicine, the faculty selection committee "takes another look," because research has demonstrated that first impressions are made within 30 seconds and often align with one's personal similarities.
Keep Options Open
Dr. Neogi is a leader in clinical OA and gout research. Her work has contributed immensely to the understanding of pain and pain mechanisms in OA, the role of bone in OA, as well as exploration of potential therapeutic options such as bisphosphonates and vitamin K; in gout, she has contributed to understanding of potential flare triggers, development of classification criteria, and treatment guidelines.
When asked for her advice to younger rheumatology researchers, she says, "Everyone's path is different, and I did not have a clear-eyed path to where I am now." After all, as a rheumatology fellow, she thought she would be a basic scientist and would be specializing in vasculitis. "And so when you see where I am now, a clinical researcher focusing on osteoarthritis and gout, it's like almost the polar opposite. While we all may have interests when we're early in our training, you never know where your opportunities and interests may take you. And I think that's one of the challenges—many people have interests and a focus early on and want to be true to that interest and focus. But that means that they may miss out on opportunities that don't directly align with that initial interest. So I think it's important to keep an open mind for where opportunities may lie and new paths may emerge."
References
Neogi T, Felson D, Niu J, et al. Association between radiographic features of knee osteoarthritis and pain: Results from two cohort studies. BMJ. 2009 Aug 21;339:b2844.
Neogi T. Clinical practice. Gout. N Engl J Med. 2011 Feb 3;364(5):443–452.
John O'Shea of NIAMS Receives 2021 Harrington Prize for Innovation in Medicine
By Gretchen Henkel
In early April, John J. O'Shea, MD, the scientific director and chief of the Molecular Immunology and Inflammation Branch of the National Institute of Arthritis and Musculoskeletal and Skin Diseases (NIAMS), was awarded the eighth annual Harrington Prize for Innovation in Medicine. Dr. O'Shea shared the award with Warren J. Leonard, MD, an NIH Distinguished Investigator at the National Heart, Lung, and Blood Institute (NHLBI).
The co-recipients delivered the Harrington Prize Lecture at the 2021 joint meeting of the Association of American Physicians, the American Society for Clinical Investigation and the American Physician Scientists Association. For Dr. O'Shea, the occasion offered an opportunity to reflect on the full-circle aspect of his groundbreaking work with the signaling protein JAK3 (Janus kinase 3).
He recalls presenting his work about the cloning of the protein at a 1993 research summer conference of the Federation of American Societies for Experimental Biology (FASEB) in Saxtons River, Vt. An encounter with a former colleague at that meeting eventually led to a collaboration with Pfizer to develop interventions targeting Janus kinases (JAKs) to treat autoimmune disease. Since that time nine JAK inhibitors (jakinibs) have been approved by agencies around the world to treat various arthritides, dermatitis, inflammatory bowel disease, graft vs. host disease, myeloproliferative neoplasms and COVID-19.
Dr. O'Shea credits the NIH's Collaborative Research Agreement and Development Award as a "terrific mechanism" for allowing government-industry cooperation in drug development. He also praises the open relationship with Pfizer research and development, including the creative approach and scientific rigor that the company brought to the project, resulting in the development of tofacitinib.
Dr. O'Shea had been fascinated since medical school with ICU patients who exhibited acute inflammatory syndromes—suffering from "what we call cytokine storms today," he says. A rotation in a lab working on the search for interleukin (IL) 1 at SUNY Upstate Medical Center eventually led to his joining the NIH. There he encountered researchers such as Anthony Fauci, MD, who was using cyclophosphamide, a cancer drug, to treat autoimmune disease—"very controversial at the time," Dr. O'Shea says.
Dr. O'Shea says he was "very fortunate" to be in the same NIH lab as Dr. Leonard, who discovered the IL-2 receptor alpha chain, and its mutation in x-linked, severe combined immunodeficiency. Dr. O'Shea predicted there was an association between JAK3 and the common gamma chain, and an ensuing collaboration with NIH post-doc Luigi Notarangelo, who had a patient with severe combined immunodeficiency, led to targeted drug-development efforts.
"As much as all of us love to be recognized for our specific work, none of this gets done without effective teamwork," he says. "I am grateful for being at the NIH and having the opportunity to make a difference."
---
Kelly April Tyrrell writes about health, science and health policy. She lives in Madison, Wis.
Gretchen Henkel is a health and medical journalist based in California.