The ballots are counted, the run-off elections are complete, and a new administration and Congress are set to begin. You may recall that the mock election that was held during the 2008 Annual Scientific Meeting—78% of U.S. meeting attendees chose Barack Obama as their next president—and the general election echoed that choice. On January 20, Barack Obama was sworn in as the United States' 44th President.
You Might Also Like
Explore This Issue
February 2009
Also By This Author
A key aspect to President Obama's campaign was healthcare and its need for reform. In a September article in "From the College," "A Race Between Underdogs," outlined the healthcare platforms of the Democratic nominee, Senator Obama (D-Ill.), and the Republican nominee, Senator John McCain (R-Ariz). Below are some of the ideas that were outlined in President Obama's plan.
ADVERTISEMENT
SCROLL TO CONTINUE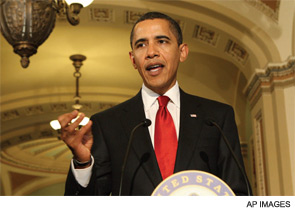 President Obama has several ideas for reforming healthcare in the United States.
Universal Healthcare: President Obama believes that all children should have mandatory health insurance. This coverage will be achieved through a choice of a public or private health insurance plan and will include tax incentives based on income.
The State Children's Health Insurance Program (SCHIP): SCHIP is a program that is continuously running out of funds on the state level, and will expire on March 31, 2009. President Obama's plan followed the Democratic party line, which would expand the program to encompass more children for a longer period of time.
ADVERTISEMENT
SCROLL TO CONTINUE
Disease prevention and evidence-based medicine: These topics are often intertwined and have a large effect on the medical community. Disease prevention saves future economies money because it allows diseases to be avoided, cured, or maintained. President Obama has stated that preventing disease and chronic disease is a necessity for the U.S. healthcare system and he believes that it is a responsibility shared by many.
Biologics: President Obama, like the ACR, is in favor of developing safe, yet efficient, policies for follow-on biologics, and is not opposed to the re-importation of drugs.
President Obama reiterated his commitment to healthcare reform by announcing former Senator Tom Daschle as his Health and Human Services (HHS) Secretary nominee, one of his early appointments.
ADVERTISEMENT
SCROLL TO CONTINUE
During his inauguration speech, President Obama stated, "our healthcare is too costly."  The cost of healthcare is, and has always been, a timely topic in the medical industry, but there is hope that healthcare reform is on the way. As the president explained, "we will restore science to its rightful place and wield technology's wonders to raise healthcare's quality and lower its cost."