The best way to understand the changes is to take a virtual tour of the new Web site and compare it with the old one.
You Might Also Like
Explore This Issue
April 2010
Also By This Author
Home Pages: Old Versus New
First, look at the old home page (below).
ADVERTISEMENT
SCROLL TO CONTINUE
Not only were there navigation menus on the left side and along the top of the page, but there was a lot of information presented in the middle—too much according to site users. By conducting usability studies, the ACR discovered how members prefer to navigate the site and where they expect to find the information they're seeking. As a result, the new maroon navigation bar on the top of the site presents the major areas of content based on user feedback: Membership, Practice Management, Advocacy, Publications, Education and Careers, and Foundation.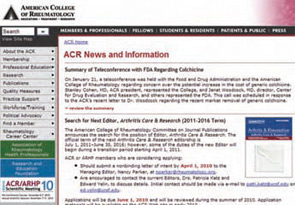 Old Home Page
In addition to the new navigation, the new home page showcases ACR, ARHP, and REF offerings in a number of different ways. Most users will be drawn to the carousel featuring five rotating graphics on the home page (three rotating graphics on each landing page). These rotating graphics feature the most timely information and will change frequently. To see how this feature works, go to the green bar just below the main image on the home page and watch it rotate (or, click the light green box and watch it turn blue as the image information above changes). Click the Learn More button on any of these graphics to get more information (see below).
ADVERTISEMENT
SCROLL TO CONTINUE
Still more content is featured midway down the home page via the News, Resources, and Take Action sections. The News box is the ACR's primary way to let members know about timely information, and clicking the links within will take visitors to more information on the topic. The Resources box links to 13 popular information categories, including patient information, Medicare references, and awards and grants offerings.
The Take Action box is full of quick links to content members may be trying to get to quickly: become an advocate, support rheumatology research, join a list serve conversation, schedule a Coder Course, and many more.
Future Improvements
Dr. Matteson says that, so far, feedback on the relaunch is positive. "Our goal was to make sure that members could reach into the Web site and quickly find the information they need without distraction," he says. Future plans include an enhanced search engine, new content in virtually every programmatic area, and improved features. "Web strategy is like a frame of mind; it is continually changing and open to new ideas," he adds.