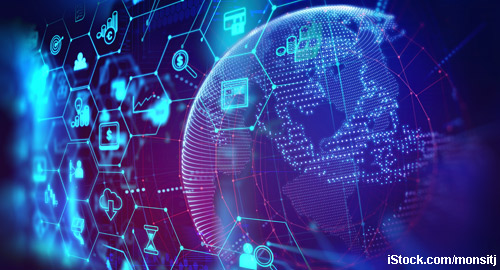 CHICAGO—
Blockchain
is a hot topic in
technology
. Usually, it's for a peer-to-peer payment system using cryptocurrency, such as bitcoin. According to speakers for Blockchain: The Next Revolution in Health Care, a session at the
2018 ACR/ARHP Annual Meeting
, this technology may play a role in the future of medicine, creating a more efficient way to purchase drugs and share data.
"What is blockchain? It's a distributed ledger that everyone has a copy of. It's transparent, so a ledger that everyone sees. It's secure and hasn't been hacked yet. It's auditable, so everyone can see what's occurred in the database. It's democratic and decentralized," said Anh L. Ngo, MD, MBA, instructor of Anesthesia at Harvard Medical School, Boston. "The data are verified and utilize cryptography, a level of encryption."
A blockchain is a chain of blocks or collections of data. Each user may add data to the blockchain, but data are very difficult to change. Each piece of information is time stamped, has unique hashtags and proof-of-work identifiers, and is distributed for group consensus, said Dr. Ngo. Changed data carry a hashtag for the previous form of the information. In cryptocurrency, a block contains information on the money's sender, receiver and amount.
"Tampering with something on the block changes the hash, and it's no longer the same block," Dr. Ngo said. "This [feature] makes the blockchain secure."
Dr. Ngo calls blockchain a "trustless trust environment," in which relationships are not built on familiarity or a handshake, but on data transparency. No one can change information in the blockchain in secrecy; a code identifies any altered data.
ADVERTISEMENT
SCROLL TO CONTINUE
Blockchain technology was conceived in 2008 after a paper was written by Satoshi Nakamoto (possibly an alias), and the first blockchain software was created in early 2009 to mine and trade bitcoin, said Dr. Ngo. In 2012, Dr. Ngo built a 20 blockchain computer system to mine bitcoin, causing a power outage when eight of his computers, located in his condominium, overwhelmed the electrical panel. Blockchain requires extensive hardware and energy use, he said. In mid-2018, he joined a new high-tech initiative leading the blockchain research program in the Health Technology Exploration Center at Beth Israel Deaconess Medical Center.
Disrupting Healthcare
Why does blockchain matter to rheumatologists? Medicine, like other industries, is "ripe for disruption," said Dr. Ngo. "Traditionally, data are organized in a centralized manner, with a hub, and people plug into that hub. In the case of medical records, everyone plugs in to the hospital's database. As we're becoming more digital as a society, this becomes decentralized. There is still centralization, because hubs share data, such as electronic health records [EHR], [across] different hospital systems. In the blockchain, the data are not centralized at a hub. [They are] distributed among everyone in the network. Nobody really owns the data."
With blockchain, EHR data are stored on multiple data hubs, he said.
ADVERTISEMENT
SCROLL TO CONTINUE
Blockchain technology is designed to require data verification, which also makes tampering with data very difficult. It is a peer-to-peer network in which all data are distributed to all users, and anyone can verify or flag the veracity of information, Dr. Ngo noted. Users will reject blockchains with signs of tampering.
"What this does is create consensus," he said. "To recalculate the information on all these blocks would be very, very time consuming, and that makes it more secure." Example: In bitcoin, blockchain allows the formation of new blocks every 10 minutes, so altering proof of work for so many chains would be very time consuming.
Smart Contracts
Blockchain's potential applications in healthcare include smart contracts with vendors or partners. Unlike traditional contract models, which require third-party verification, "with blockchain implementation of smart contracts, you build the checklist into the program. When everything is checked off, it automatically executes," said Dr. Ngo. "Healthcare is a cumbersome, hugely inefficient and costly system. Blockchain could decrease time for transactions and data transfer, could decrease costs, decrease labor needs through digitization in a trustworthy setting and decrease waste, such as paper."
Smart contracts for physician reimbursement or bills for equipment could potentially cut out third parties, such as insurance companies, Dr. Ngo suggested. Traditional transactions must go through central clearinghouses, such as banks. In a blockchain, patients could send payments directly to a physician practice or medical organization. Hospitals could also send payments directly to drug suppliers, potentially reducing fees and delays.
Dr. Ngo envisions blockchain technology being implemented for EHR data, consent management, micropayments for medical services, insurance processing and claims, and supply management for medical practices or hospitals.
"It's not just the blockchain that is viable in healthcare. It's blockchain and the other elements of advances in technology, including big data, the Internet of Things, artificial intelligence and predictive modeling, that could all improve inefficiency in healthcare," said Dr. Ngo.
"Currently, medical records are centralized at a hospital or provider, and [with] stakeholders. They all rely on the provider to house the data," he said. "But not everyone is linked. Can we implement a way to manage health data where [they are] interconnected, and everyone is an equal stakeholder?" Dr. Ngo believes blockchain's distributed ledger model, in which changing data is nearly impossible, is one way to do that.
"Hospitals need a secure platform to store and share sensitive data. Data may be lost, [they] could be inaccurate, [they] could be mixed up with other patients, and even though it's a taboo, [they] could be altered," he said. Blockchain would allow patients to create permissions for who could view their data. "As a stakeholder, you own your data, not just the system."
Medical supply and medication management is plagued by high costs, inefficiencies, shortages, impurities and other quality control issues, said Dr. Ngo. "In the current system, we can't guarantee quality because to even purchase common supplies, such as syringes, you have to go through a process involving multiple parties." Current recalls of blood pressure medications, such as losartan and valsartan, due to contamination highlights the difficulty in tracking when lots of medicines were manufactured or where or how they were stored during shipment.
"How many of you have experienced drug shortages at your hospitals?" he asked. "We have no visibility of where supplies are coming from. With blockchain, checklists in a smart contract could check off vital processes before the contract is executed. Some of those questions could include when and where materials were harvested and produced, and how they were transported, such as at the right temperature. We can use blockchain to regulate processes from start to end."
Possible Pitfalls
Hacking is one possible pitfall for blockchain's implementation in healthcare, said Dr. Ngo. Stakeholder participation in smart contracts, implementation costs, questions about who should control patient data, government regulations and interoperability are others. Cryptocurrency exchanges have been hacked, but not the actual blockchains—yet.
Another concern is blockchain's high-energy consumption, Dr. Ngo said. "As blockchain grows bigger, it will require bigger computer systems for those proof-of-work algorithms." As blockchain innovation swiftly advances, new, secure proof models may speed up data verification and reduce energy needs, he said.
---
Susan Bernstein is a freelance medical journalist based in Atlanta.
Reference
Nakamoto S. Bitcoin: A peer-to-peer electronic cash system. Bitcoin. 2008.