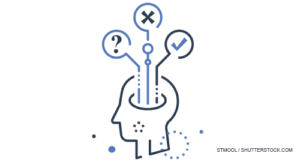 The 1999 Institute of Medicine report To Err Is Human gave a sobering depiction of the magnitude and consequences of medical error.1 The report concluded that approximately 98,000 people die in hospitals annually due to preventable medical errors. Of all the errors detailed in this report, diagnostic errors have since been determined to be the most common and may occur in up to 15% of cases, based on autopsy data.2 It is therefore imperative that medical providers understand their role in diagnostic error.
Diagnostic Errors
Diagnostic errors are classified as system-based or cognitive errors. System-based errors are rooted in the complex structure of healthcare delivery. For example, a diagnosis may be delayed due to a protracted wait time for a magnetic resonance imaging (MRI) scan because the number of machines available may be insufficient to meet clinical demand.
In contrast to system-based errors, cognitive errors are related to medical decision making. Cognitive errors can be due to 1) lack of knowledge, 2) faulty data gathering or 3) incorrect synthesis of information. Cognitive errors contribute to the majority of missed and delayed diagnoses.2
Medical school education focuses primarily on improving knowledge and data gathering, but most cognitive errors are the result of the incorrect synthesis of information rather than the result of knowledge deficits.2 Conse­quently, rheumatic diseases are fraught with potential for cognitive errors because our diseases are rare, complex, lack definitive diagnostics and require the careful synthesizing of data from many sources.
Medical information is synthesized through two distinct methods: heuristic thinking (i.e., type 1 thinking) and analytic thinking (i.e., type 2 thinking).3 Heuristic thinking is the process by which an expert quickly attributes a set of medical information to a diagnosis via pattern recognition. Heuristic thinking is faster than analytic thinking, but also more error prone.
Analytic thinking is a consciously controlled effort to reason through a problem.3 This synthesis strategy is used when a medical provider methodically processes all diagnostic possibilities that could be associated with a patient's medical history, exam findings, lab results and imaging studies. Analytic thinking entails developing a lengthy differential diagnosis and methodically considering each possibility. Although thorough and less likely to miss something important, type 2 thinking is time intensive and not feasible at all junctures.
It has been proposed that even though early learners need to rely primarily on analytic (i.e., type 2) thinking, more experienced clinicians can safely default to heuristic (i.e., type 1) thinking—provided they learn to recognize those moments when it may be critical to intentionally switch to analytic thinking to minimize the chance of a serious negative outcome due to misdiagnosis.4 Analytic thinking is most important when cognitive errors are mostly like to occur (described in the next section) and when the stakes are greatest, such as with life-threatening illness or high-risk therapies.
No human can avoid cognitive errors entirely. However, reducing the number of errors we make in a given clinical scenario can prevent errors from aligning in a way that results in a misdiagnosis, as demonstrated by James Reason's Swiss cheese model.5 In other words, if we have to synthesize medical information in five different ways in a clinic visit, we may be able to reach the correct diagnosis if we make only one or two cognitive errors, whereas we are more likely to make a misdiagnosis if we make additional cognitive errors in that same encounter.
Although cognitive errors account for only some of the holes in the Swiss cheese model, they are the holes over which providers have the greatest influence—the aspect of care that individual providers can mitigate through debiasing strategies (described in the final section).5 Indeed, studies into the impact of teaching trainees about cognitive errors have shown that when medical providers learn about the different types of cognitive errors, they are less likely to make these errors and more likely to reach the correct diagnosis.6,7 Toward that end, in Table 1, we describe some of the most common cognitive errors, providing rheumatology-based clinical examples.
Table 1: Examples of Common Cognitive Biases in Rheumatology
Cognitive Bias
Description
Example
Search Satisficing
Calling off the search once a
diagnosis is found
A patient comes to see you for polyarthritis. Due to a strong family history of rheumatoid arthritis (RA), you request a test for rheumatoid factor, which is positive, and correctly diagnose RA. However, believing you had a diagnosis, you miss the tophi on his ears that were an indication he also has gout, accounting for the majority of his symptoms.
Framing Effect
When the initial description of the case strongly shapes your thinking
You are consulted for management of a gout flare in a patient with a history of gout. Treatment for gout is initiated but the patient fails to improve. Joint aspiration later reveals septic arthritis.
Diagnosis Momentum
When a diagnosis insidiously
becomes a label
A patient with ocular pseudotumor from "suspected IgG4-related disease" is admitted for respiratory failure, attributed to community-acquired pneumonia. The history and physical exams state he "has pseudotumor secondary to IgG4-RD" (the word suspected being omitted) and no further workup is sent. Granulomatosis with polyangiitis is missed because the pseudotumor was labeled as IgG4-RD without further investigation.
Anchoring Bias
Locking on to certain features while ignoring others
A patient is admitted to the hospital for pneumonia is found to have palpable purpura and a creatinine of 2.5. The consulting rheumatologist recalls palpable purpura as being a classic sign of IgA vasculitis, elicits a history of knee pain, and diagnosis a 75-y/o patient with IgA vasculitis, as opposed to the actual senile purpura combined with chronic kidney disease (CKD) and osteoarthritis.
Confirmation Bias
Looking for evidence to support rather than refute a diagnosis
A patient with CKD and a history of gout reports episodic swelling in the small joints of the hands. His uric acid is 7, and his joint symptoms are attributed to gout. Parathyroid hormone is not checked, and hyperparathyroidism is missed.
Psych-Out Bias
Attributing all symptoms to a known psychiatric diagnosis
A patient with panic attacks is diagnosed with generalized anxiety disorder after reporting persistent dyspnea and palpations. A year later she is brought to the emergency department via emergency medical services after a witnessed syncopal episode. Computed tomography angiography reveals an enlarged pulmonary artery. Right heart catheterization confirms severe, long-standing pulmonary hypertension.
Premature Closure
When a diagnosis is made, the thinking stops and new information is neglected
A patient with a history of giant cell arteritis develops monocular vision loss and left-sided weakness. Pulse-dose steroids are initiated for presumed temporal arteritis, but the patient develops encephalopathy and clinically deteriorates. MRI shows embolic stroke and transthoracic echocardiogram confirms infective endocarditis.
Hassle Bias
Justifying inaction due to the hassle
of action
A patient with a history of CKD from uncontrolled diabetes and gout comes to the clinic for right knee pain and swelling. Joint aspiration is deferred during a busy clinic day, and symptoms are attributed to a gout flare. However, the pain and swelling subsequently don't improve with steroids. The patient returns to clinic and mentions he has been falling since developing peripheral neuropathy. Aspiration is performed and reveals a bloody effusion. Diagnosis of an intra-articular fracture is delayed.
Posterior Probability
Overestimating the likelihood of a diagnosis due to the patient's past medical history
A patient with a diagnosis of IgA vasculitis reports multiple flares of joint pain and effusions despite resolution of his purpura with conservative therapies. He undergoes several courses of steroid tapers, which temporarily resolve musculoskeletal symptoms. A year later, joint aspiration is performed during a flare and reveals gout.
Availability Bias
The prevalence of a diagnosis is inflated by the ease with which the diagnosis was made
A patient with a history of tobacco use is diagnosed with thromboangiitis obliterans after presenting with ischemic digits. ANCA is not sent and granulomatosis with polyangiitis is missed.
Commission Bias
Medical errors made due to over-action, inspired by a sense of beneficence on
the part of the medical provider
A lupus patient presents with a creatinine of 6.3 and is found on biopsy to have lupus nephritis Class VI. The doctor starts to explain the plan to get the patient set up for dialysis, but she is devastated by the news. Influenced by the patient's reaction, the provider reconsiders and decides it might be worth trying six months of intravenous cyclophosphamide.
Omission Bias
Medical errors made due to inaction in an attempt to follow the principle of nonmaleficence, doing no harm
A patient with anti-MDA5 dermatomyositis is intubated in the ICU, declining despite maximal oxygen and pressure support. Bronchoscopy is deemed unsafe on current ventilator requirements. Pulse-dose steroids are deferred as infection cannot be definitively ruled out with bronchoalveolar lavage.
"Anything-Could-Be-Rheumatic" Bias
When a provider habitually overestimates the likelihood of patients' symptoms being explained by a rheumatic diagnosis
A patient with a history of psoriasis and chronic musculoskeletal pain but no evidence of inflammatory arthritis on exam continues to follow with rheumatology for years due to "possible psoriatic arthritis."
"Not-It" Bias
When a provider habitually underestimates patients' symptoms being due to rheumatic disease
A patient with two months of joint pain and frank synovitis on exam is diagnosed with a viral arthritis and follow-up rheum care not arranged, justified based on the patient endorsing occasional rhinorrhea amid allergy season.