You Might Also Like
Explore This Issue
July 2014
Also By This Author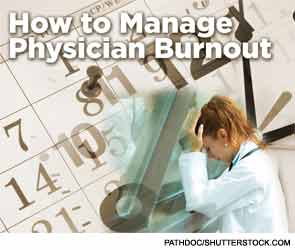 ADVERTISEMENT
SCROLL TO CONTINUE
Feeling a little disillusioned about your career in medicine lately?
You're not alone.
ADVERTISEMENT
SCROLL TO CONTINUE
Many physicians are feeling burnout from today's job pressures. It's led 45.8% of physicians from a variety of specialties to report at least one symptom of burnout.1 Rheumatologists are not immune to that pressure.
First, there are the pressures that physicians from all specialties are facing right now. "In general, regulations are getting tighter, and revenues are shrinking," says Stuart Kaplan, MD, of Rheumatology Consultants in Hewlett, N.Y. "We have to see more patients to make ends meet."
New expectations with the Affordable Care Act; caring for aging and often sicker patients; and various federal initiatives, such as Meaningful Use, are adding new (and not always welcome) responsibilities, says Elyse Rubenstein, MD, a rheumatologist at Providence Saint John's Health Center in Santa Monica, Calif.
ADVERTISEMENT
SCROLL TO CONTINUE
All of these responsibilities lead physicians to spend more time doing administrative work instead of the direct care with patients that likely led them to medicine in the first place, says Mark Linzer, MD, director, Division of General Internal Medicine, Hennepin County Medical Center, Minneapolis.
Then, of course, there are electronic medical records (EMRs). Physicians in offices with a moderate amount of EMR use reported greater stress and lower job satisfaction, according to a study published this year and co-authored by Dr. Linzer.2 When EMRs were used even more, physicians felt more time pressure during patient visits, as well as more dissatisfaction and intent to leave the profession, according to the study.
"EMRs were supposed to save time, but they take more time. We're putting in information that we don't necessarily need to collect," Dr. Kaplan says
.
Challenges in Rheumatology
Burnout studies identify physicians on the front line of medicine—such as family medicine, general internal medicine and emergency medicine—as the most vulnerable to burnout.1 However, rheumatology has its challenges, as well.
"Rheumatology is a cognitive specialty that requires excellent history taking and physical exam," says Stacy Ardoin, MD, a rheumatologist with The Ohio State University Wexner Medical Center, Columbus. "Most rheumatologists enter the field because they enjoy the diagnostic art of rheumatology. The current pressures to spend less time with a patient make it more challenging to do detailed histories and exams."
If upon exam a patient requires a biologic drug, there's paperwork involved with that decision that can frustrate even the most levelheaded physician in the specialty. "The expense of biologic medications has heightened the pushback from insurers regarding coverage of therapies for patients, requiring doctors and staff to spend more time trying to convince insurers to cover medicines," Dr. Ardoin says.