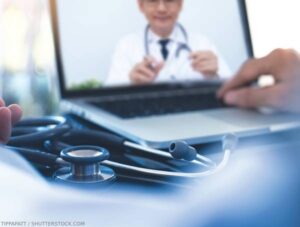 Developing instructional sessions or courses for delivery in online (i.e., asynchronous, not live) or remote (i.e., synchronous, live) learning environments rests on a foundation of traditional instructional design and active learning concepts. Successful online/remote instruction interprets those foundational concepts through technological and multimedia components. For example, the ADDIE instructional design model may be interpreted:
Analyze—determine the instructor's readiness, technological infrastructure and resources, the learners' needs and instructional goals;
Design—based on the analysis, write learning objectives and select digital tools appropriate for the technological infrastructure to meet the instructional goals;
Develop—create content, activities and assessments with a focus on multimedia and interactive formats;
Implement—launch the course; and
Evaluate—beyond assessments, regularly test course components and modify them as needed.1
Prepare
Whatever platform one will be using for online/remote sessions or courses, instructors must learn how to use that platform, allotting time to take a training class and launch test courses.2,3 Most course learning management systems (LMS; e.g., Blackboard LMS, Canvas LMS, Moodle) have fairly steep learning curves, particularly if one wants to use a variety of their digital tools.
ADVERTISEMENT
SCROLL TO CONTINUE
Effective multimedia materials should enhance the learning process, not serve as add-on decorations to other instructional content.
Depending on available resources and online/remote session or course needs, instructors may want to consider using a digital authoring application or platform (e.g., Eduflow, eXe, Google Classroom) or virtual meeting platform (e.g., Google Meet, Webex by Cisco, Zoom). Again, although generally easier to use than an LMS, time must be allotted to learn the applications and platforms.
ADVERTISEMENT
SCROLL TO CONTINUE
Online instruction has been lauded for creating more equitable and standardized learning opportunities, but a critical point to remember is that not all learners have access to the same remote environment.4-6 When planning online courses, instructors must know if their organizations provide technology support to learners with inadequate equipment, software or network bandwidth. With an understanding of the nature and extent of available technology support, instructors can select or develop learning platforms, digital tools and multimedia content that will be accessible to all of their learners.
Depending on the complexities of the planned online/remote session or course, instructors may want to collaborate with online instructional designers, audio-visual technicians and librarians.7
Online instructional designers can help one understand construction considerations for learner access via desktop and mobile devices, strategies for developing synchronous and asynchronous sessions, and uses of available digital tools;
Audiovisual technicians can help instructors design and develop engaging multimedia content; and
Librarians can help instructors identify relevant open-access and in-house collection materials to serve as course textbooks and readings, multimedia content, interactive and collaboration activities, and assessments. Obviously, if using print and DVD materials, instructors need to know the number of available physical copies—one may need to put library materials on reserve or limit their circulation. Not so obvious are considerations for using a library's electronic multimedia materials. These materials have vendor license limitations (e.g., the number of users permissible at one time) that may affect how one can incorporate them into an instructional session or course.
Connect
Learner-centered online/remote instruction emphasizes humanization and connection. Humanization entails designing around presence and interaction rather than content delivery.8 In an online learning environment, where most work is completed asynchronously, learners need to feel connected to instructors and peers.3 Even in synchronous remote sessions, learners may feel isolated and disconnected.
ADVERTISEMENT
SCROLL TO CONTINUE
RESOURCES—FIND THE TOOLS
Learning Management Systems
• Moodle
Digital Authoring Application
• Eduflow
• eXe
Virtual Meeting Platform
• Zoom
When designing, developing and implementing online or remote sessions and courses, one should use digital tools that help create and maintain instructor presence. Instructors should also interpret traditional active learning principles through technological and multimedia components to promote learner engagement, interaction and collaboration.
Interestingly, audio and video recordings that feature instructors and learners themselves have a humanizing effect and help learners feel connected to their peers and instructors.8,9 If recording capabilities are available, consider having online learners create introductory videos.
As with in-person courses, instructors in online/remote environments need to provide learners with a syllabus detailing reading and multimedia assignments, assessment types and dates, grading rubric and instructor office hours. Equally important, instructors need to provide learners with information on available technology support, clear instructions on how to access content and materials via the course platform or organizational library, and expectations for online discussion room and/or virtual classroom interactions and etiquette.
Instructors should also anticipate increased work hours surrounding their online/remote course presence. Beyond an expanded syllabus, instructors should provide learners with welcoming or introductory emails or videos, and must appreciate the importance of asynchronous feedback on assignments and assessments being immediate.3,6,8,9
Include Multimedia
Multimedia content is particularly important for engaging online/remote learners. Effective multimedia materials don't serve as decorations to other instructional content, but enhance the learning process. If insufficient multimedia materials are available, instructors need to create them. In online/remote instructional sessions and courses, poor multimedia design and recording gaffs are magnified and distracting for learners. Again, consider consulting an audiovisual technician for help creating engaging multimedia content.
When creating presentations in PowerPoint, Keynote or other presentation program, adhere to visual design principles:
Develop a theme and create an atmosphere in uncluttered layouts;
Highlight key points only;
Try to keep one main idea per slide;
Alternate text with graphics, illustrations, images or photographs;
Combine upper- and lowercase text, which the eye sees/reads better;
Use sans serif fonts (e.g., Arial), which better display online;
Use high-contrast colors;
Use clear and concise legends and axis titles in figures and tables; and
Be sure to clear copyright as needed for images and photographs.
When recording audio and video, instructors should test their voices for breathing and pronunciation issues, for example, plosives (i.e., consonants produced by stopping the airflow using the lips, teeth or palate, followed by a sudden release of air, such as t, k and p [voiceless] and d, g and b [voiced]) and fricatives (i.e., consonants made by the friction of breath in a narrow opening, producing a turbulent air flow, such as f and th). These issues can often be resolved by using a pop filter and/or a better microphone. Unless adept at navigating web-based resources and databases, use a screen capture tool to create images for insertion into a presentation, then record the presentation. Whether recording audio or video, work from a script or notes to avoid awkward pauses.
The Web Accessibility Initiative website provides guidance on making audio and video recordings accessible.10 Basic guidelines include providing alternative text and audio description for visuals, as well as creating captions for audio and video recordings. Most LMS and digital authoring tools have audio and video recording capabilities with captioning features.
Encourage Active Learning
Online/remote instructors can promote active learning through myriad technological and multimedia components. As with in-person sessions and courses, remote instructors should periodically break from presenting content to engage learners in interactive and collaborative activities.
Virtual meeting platforms include polling and assessment features to help engage learners, as well as discussion and breakout room features to facilitate learner discussion and project collaboration.
Instructors can incorporate active learning activities into online presentations or remote course content. Many LMS audiovisual recording components include the ability to insert questions and feedback into recordings, allowing learners to pace and assess themselves. Most LMS and other digital platforms include learner discussion lists and collaborative work spaces.
When using such features, online instructors should maintain their presence by monitoring discussion to promote a respectful environment and providing timely constructive feedback on collaborative projects.11
Depending upon available resources and online/remote session or course needs, instructors may want to consider using free or low-cost products to engage learners. Many products offer interesting audiovisual, interactive and collaborative features:
All of these products work with a variety of browsers, have varying file size limitations and vary pricing for private and educational users.
---
Laura E. Ray, MA, MLS, is the outreach and instructional service librarian at the Cleveland-Marshall College of Law.
Author's note: Inclusion of learning management systems, digital tools and software products in this article does not imply endorsement of those products.
References
Saymer AA, Ergönü E. E-learning in clinical microbiology and infectious diseases. Clin Microbiol Infect. 2021 Nov;27(11):1589–1594.
Nunneley CE, Fishman M, Sundheim KM, et al. Leading synchronous virtual teaching sessions. Clin Teach. 2021 Jun;18(3):231–235.
Singh J, Steele K, Singh L. Combining the best of online and face-to-face learning: Hybrid and blended learning approach for COVID-19, post vaccine, & post-pandemic world. Journal of Educational Technology Systems. 2021 Dec;50(2):140–171.
Grafton-Clarke C, Uraiby H, Gordon M, et al. Pivot to online learning for adapting or continuing workplace-based clinical learning in medical education following the COVID-19 pandemic: A BEME systematic review: BEME Guide No. 70. Med Teach. 2022 Mar;44(3):227–243.
Lee E, Kourgiantakis T, Hu R. Teaching note—Teaching socially just culturally competent practice online: Pedagogical challenges and lessons learned during the pandemic. Journal of Social Work Education. 2021;57(S1):58–65.
Poudevigne M, Armstrong ES, Mickey M, et al., What's in your culture? Embracing stability and the new digital age in moving colleges of health professions virtually during the COVID-19 pandemic: An experiential narrative review. Education Sciences. 2022 Feb;12(2):137–157.
Fitzgerald DA, Scott KM, Ryan MS. Blended and e-learning in pediatric education: Harnessing lessons learned from the COVID-19 pandemic. Eur J Pediatr. 2022 Feb;181(2):447–452.
Harris HS, Michael Greer M. Using multimedia for instructor presence in purposeful pedagogy-driven online technical writing courses. Journal of Technical Writing and Communication. 2021 Jan;5(1):31–52.
Hehir E, Zeller M, Lockhurst J, Chandler T. Developing student connectedness under remote learning using digital resources: A systematic review. Educ Inf Technol (Dordr). 2021 Sep;26(5):6531–6548.
Design and develop overview. Media resource for audio and video. Web Accessibility Initiative. https://www.w3.org/WAI/design-develop/#media-resource-for-audio-and-video.
de Nooijer J, Schneider F, Verstegen DML. Optimizing collaborative learning in online courses. Clin Teach. 2021 Feb;18(1):19–23.