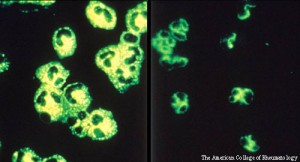 Idiopathic pulmonary fibrosis (IPF) is a progressive fibrotic disorder of the lower respiratory tract. The incidence of IPF continues to rise, and, although IPF can be deadly, the median length of survival for patients with IPF can be difficult to calculate. Most agree that IPF is an important cause of respiratory mortality. Complicating matters is the fact that anti-neutrophil cytoplasmic antibodies (ANCA) are often found in patients diagnosed with IPF and may contribute to mortality. Nevertheless, current guidelines do not recommend physicians perform serological tests for vasculitis on patients with IPF.
You Might Also Like
Also By This Author
Marc Pineton de Chambrun, MD, a rheumatologist at the Tenon Hospital in France, and colleagues published their description of a 71-year-old male patient online on Oct. 26 in BMC Pulmonary Medicine.1 The patient had a chronic cough and was diagnosed with IPF in 2010. Three years later, he presented to the authors with rapidly progressing glomerulonephritis. The team found ANCA in both current and historical sera. The 2010 serum also had a perinuclear pattern visible by immunofluorescence. The researchers performed a kidney biopsy and found a pauci-immune glomerulonephritis, as well as areas of glomerular fibrosis. The results imply that there had been previously unrecognized flares of indolent vasculitis. The doctors concluded that a diagnosis of "idiopathic" pulmonary fibrosis was unlikely.
ADVERTISEMENT
SCROLL TO CONTINUE
They write, "We suggest moving from a radiological and histopathological classification of this disease to a more molecular and mechanistic approach. A significant proportion of patients presenting with pulmonary fibrosis who test positive for ANCA should be scrutinized closely and, for them, vasculitis is a disease to look out for during follow up."
Previous studies have found between 5 and 10% of patients with IPF have circulating ANCA. Nevertheless, most published studies describe IPF and ANCA-associated vasculitis (AAV) as two distinct diseases with a potential pathophysiological link. Specifically, alveolar interstitial fibrosis is frequently observed in patients with lung manifestations of vasculitis. Dr. Pineton de Chambrun and colleagues suggest that testing for ANCA be performed regularly in elderly patients, even if they lack extra-pulmonary signs of nephritis.
ADVERTISEMENT
SCROLL TO CONTINUE
"Taking all these factors into consideration, we believe that patients presenting with IPF should be screened for ANCA, because pulmonary fibrosis could be the end result of repeated mild flare(s) of lung vasculitis causing occult alveolar hemorrhage," write the authors in their discussion. "In the kidney field, it is widely accepted that glomerulosclerosis may reflect previous flares of vasculitis of the glomerular capillary, with the alveolar capillaries probably sharing the same pattern of injury/repair response and scarring. The pathophysiological link between indolent vasculitis and fibrogenesis is the subject of speculation, but local inflammation and the release of heme proteins into the alveolar chamber could, for instance, induce oxidative damage and destabilize lung homeostasis."