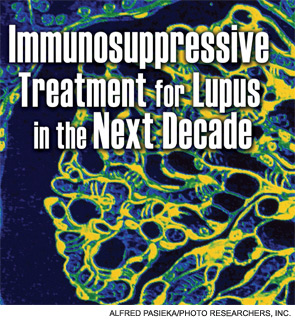 The Case
An 18-year-old woman first presented with findings of systemic lupus erythematosus (SLE) including arthritis, fever, photosensitivity, hair loss, oral ulcers, Raynaud's phenomenon, mild leukopenia, and thrombocytopenia. Antinuclear antibodies and anti-dsDNA were positive, but there was no evidence of nephritis. She was treated with low-dose glucocorticoids and hydroxychloroquine. A few months later, she developed lower-extremity edema, and her urinalysis showed an active urine sediment and proteinuria of 1 g/24 hr. She was treated with prednisone 60 mg/day for presumed proliferative lupus nephritis and is referred to you.
At the time of your evaluation, she is on prednisone 30 mg/day. Urinalysis showed an active sediment with proteinuria of 1.2 g/24 hr. Laboratory values were significant for a hematocrit of 32%, serum creatinine of 1.0 mg/dl, urea 103 mg/dl, and albumin 3.4 mg/dl. Both C3 and C4 titers were low. A renal biopsy showed focal, segmental glomerulonephritis with an activity index of 8 and a chronicity index of 1. On renal biopsy, there were a few areas of fibrinoid necrosis and fibro-epithelial crescents in less than 10% of the renal glomeruli (see Figure 1).
How would you treat this patient? Would you use azathioprine (AZA), mycophenolate mofetil (MMF), or cyclophosphamide (CY)? What is the evidence for your choice?