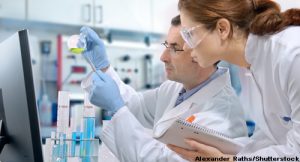 CHICAGO—When Richard Furie, MD, was first asked to speak about lupus at the 2019 ACR State-of-the-Art Clinical Symposium, held April 5–7, organizers suggested he discuss low disease activity and classification criteria.
You Might Also Like
Also By This Author
But Dr. Furie, a professor of medicine at the Donald and Barbara Zucker School of Medicine at Hofstra/Northwell, Hempstead, N.Y., and a veteran investigator of lupus clinical trials, suggested another topic: new therapies. At the time, he expected a new drug would soon be approved, which would have been big news for lupus.
ADVERTISEMENT
SCROLL TO CONTINUE
Unfortunately, the drug, anifrolumab, failed in the first of two phase 3 trials, becoming yet another in a series of disappointments. No new therapies for lupus have resulted from randomized, controlled trials since belimumab was approved in 2011.
In his talk, Dr. Furie addressed clinical trials, convinced that given the array of approaches and interest in finding better treatments, new therapies are bound to emerge.
"Lupus is being attacked in a very eclectic manner. It's just fascinating to me how many different approaches are being taken to attack this condition," he said.
Anifrolumab
The failure of the anifrolumab trial, TULIP-1, for which Dr. Furie was the principal investigator, was a particularly big letdown due to the drug's target, the type 1 interferon pathway, and its early results. All five of the type 1 interferon subtypes bind to the same receptor, and anifrolumab is an antibody targeting that receptor.
"It actually would make a lot of sense to target the receptor, because then you're blocking all type 1 interferons. Whereas, if you just target alpha interferon, for example, you have four other subtypes of the type 1 interferon that can signal through the receptor," Dr. Furie said. "So one would expect greater interferon inhibition by targeting the type 1 receptor."
ADVERTISEMENT
SCROLL TO CONTINUE
In a phase 2 trial, a subset of patients with the worst skin disease had an odds ratio of 3:7, depending on the dose and time point, for at least a 50% improvement on the CLASI (Cutaneous Lupus Erythematosus Disease Area and Severity Index)—results that Dr. Furie called "remarkable." High hopes for the drug's effects surrounded not just its potential cutaneous effects, but also musculoskeletal and overall benefits, he said.1
In August 2018, manufacturer AstraZeneca announced the drug had failed its primary endpoint in TULIP-1.2 The results of a second trial, TULIP-2, have not yet been released.
"It really shocked the lupus community, because we had great expectations for this particular drug," Dr. Furie said. "There have been a lot of analyses performed to find out why it failed." Those findings and results of a companion phase 3 study will likely be out soon, he noted.