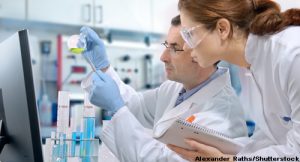 CHICAGO—When Richard Furie, MD, was first asked to speak about lupus at the 2019 ACR State-of-the-Art Clinical Symposium, held April 5–7, organizers suggested he discuss low disease activity and classification criteria.
You Might Also Like
Also By This Author
But Dr. Furie, a professor of medicine at the Donald and Barbara Zucker School of Medicine at Hofstra/Northwell, Hempstead, N.Y., and a veteran investigator of lupus clinical trials, suggested another topic: new therapies. At the time, he expected a new drug would soon be approved, which would have been big news for lupus.
ADVERTISEMENT
SCROLL TO CONTINUE
Unfortunately, the drug, anifrolumab, failed in the first of two phase 3 trials, becoming yet another in a series of disappointments. No new therapies for lupus have resulted from randomized, controlled trials since belimumab was approved in 2011.
In his talk, Dr. Furie addressed clinical trials, convinced that given the array of approaches and interest in finding better treatments, new therapies are bound to emerge.
"Lupus is being attacked in a very eclectic manner. It's just fascinating to me how many different approaches are being taken to attack this condition," he said.
Anifrolumab
The failure of the anifrolumab trial, TULIP-1, for which Dr. Furie was the principal investigator, was a particularly big letdown due to the drug's target, the type 1 interferon pathway, and its early results. All five of the type 1 interferon subtypes bind to the same receptor, and anifrolumab is an antibody targeting that receptor.
"It actually would make a lot of sense to target the receptor, because then you're blocking all type 1 interferons. Whereas, if you just target alpha interferon, for example, you have four other subtypes of the type 1 interferon that can signal through the receptor," Dr. Furie said. "So one would expect greater interferon inhibition by targeting the type 1 receptor."
ADVERTISEMENT
SCROLL TO CONTINUE
In a phase 2 trial, a subset of patients with the worst skin disease had an odds ratio of 3:7, depending on the dose and time point, for at least a 50% improvement on the CLASI (Cutaneous Lupus Erythematosus Disease Area and Severity Index)—results that Dr. Furie called "remarkable." High hopes for the drug's effects surrounded not just its potential cutaneous effects, but also musculoskeletal and overall benefits, he said.1
In August 2018, manufacturer AstraZeneca announced the drug had failed its primary endpoint in TULIP-1.2 The results of a second trial, TULIP-2, have not yet been released.
"It really shocked the lupus community, because we had great expectations for this particular drug," Dr. Furie said. "There have been a lot of analyses performed to find out why it failed." Those findings and results of a companion phase 3 study will likely be out soon, he noted.
To illustrate clinical needs in the lupus field, Dr. Furie looked at the placebo arms of nine clinical trials studying patients on standard treatments. In extra-renal disease, response rates were no higher than 50%, depending on the trial and the endpoint used. In lupus nephritis, none of the trials had a complete response rate above 36%.
"We have major unmet needs in lupus," he said.
He mentioned four main problems with lupus clinical trials. For one thing, especially when it comes to extra-renal disease, lupus activity is "often overstated," he said.
For another, patients are on several background therapies. "That blunts our ability to discriminate" the effect of one therapy from another, Dr. Furie said.
The complexity of the disease is also a factor. "As opposed to rheumatoid arthritis and psoriatic arthritis, there may be more pathways active in lupus," he said.
The field also needs better endpoints in its clinical trials.
Current Research
In phase 2 studies, researchers are investigating BIIB059, a monoclonal antibody targeting the plasmacytoid dendritic cell BDCA2. Dr. Furie, who is working on this trial, said the antibody's tail end also binds to the Fc receptor, blocking immune complexes from binding to it, which could heighten its effects.3 "This has a dual mechanism of action," he said.
Research into obinutuzumab, an antibody approved for chronic lymphocytic leukemia, is also now underway for lupus nephritis.4
In the BELIEVE trial, researchers are attempting to re-employ rituximab, which previously failed in lupus trials. The treatment showed favorable signals that killing off CD20-positive B cells may be an effective approach to treating lupus. Researchers are now assessing rituximab preceded by belimumab, an approach that may enhance rituximab's effects, Dr. Furie notes.5
"Belimumab actually mobilizes B memory cells and may allow more B cells to be killed off by rituximab," he said.
The scientific rationale for the reverse sequence—rituximab preceded by belimumab—stems from the SYNBIOSE and CALIBRATE studies. The concept is to reduce the elevation of circulating levels of BLyS, the B lymphocyte stimulator. This happens after B cell depletion and is responsible for the re-emergence of autoimmunity.
Studies are also underway for a selective inhibitor of the immunoproteasome called KZR616, in both extra-renal disease and lupus nephritis, as well as for an antibody to CD38.
"It's just been a real tough nut to crack, but I am optimistic about the future," he said. "We will have more medicines. It's just a matter of time."
---
Thomas R. Collins is a freelance writer living in South Florida.
References