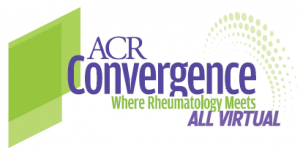 ACR Convergence 2020—The types of autoinflammatory and rheumatic diseases that may be effectively treated by blocking type 1 interferon (IFN) are growing as more is understood about IFN signaling as a pathomechanism amplifying immune dysregulation in a range of clinical diseases.1–3 In a session titled Interfering with Interferon, investigators from the U.S. National Institutes of Health (NIH) described key features and genetic causes of Mendelian interferonopathies and treatment approaches that may indicate the efficacy of IFN inhibition, such as with Janus kinase inhibitors (JAKinibs).
Raphaela Goldbach-Mansky, MD, MHS, a senior investigator in the Translational Autoinflammatory Diseases Section in the National Institute of Allergy and Infectious Diseases (NIAID), spoke on a group of model diseases that illustrate the spectrum of clinical features associated with a chronically elevated IFN signature.4 Falling under the general category of autoinflammatory Mendelian interferonopathies, these include SAVI (STING-associated vasculopathy with onset in infancy), CANDLE (chronic atypical neutrophilic dermatosis with lipodystrophy and elevated temperatures) and AGS (Aicardi-Goutières syndrome).
She discussed a set of clinical features of these diseases that may indicate type 1 IFN as a potential pathomechanism, including neutrophilic rashes (particularly neutrophilic panniculitis), lipodystrophy, vasculopathies (e.g., chilblain lesions), interstitial lung disease, primary pulmonary hypertension, myositis, neurological findings (e.g., encephalopathy) and imaging findings (e.g., basal ganglia calcifications or leukoencephalopathy).
"Such findings in patients with inflammatory diseases even in the absence of disease-causing mutations should prompt the investigation for an interferon-mediated disease process," said Dr. Goldbach-Mansky. "Unfortunately, tests that probe for an IFN signature are not yet clinically available but would significantly enhance our diagnostic armamentarium."
Dr. Goldbach-Mansky also described conditions that can mimic these diseases and that also show IFN dysregulation, such as spondyloenchondrodysplasia, deficiency of adenosine deaminase 2 for SAVI or trichohepatoenteric syndrome for AGS. Other conditions (e.g., NEMO-exon 5 deletion autoinflammatory syndrome, which mimics CANDLE) are novel diseases that have a more complex inflammatory signature that includes IFN signaling. "Knowing the genetic mutations will help in further studying pathways and finding targets for treatment of more complex diseases," she said.
'Unfortunately, tests that probe for an IFN signature are not yet clinically available.' —Dr. Goldbach-Mansky
She underscored the promise of these findings for improving treatment. "With the increasing number of agents that target IFN signaling, including JAK inhibitors, antibodies to the IFN receptor and [future] STING inhibitors, there is light at the end of the tunnel with better treatment options on the horizon not only for patients with rare autoinflammatory diseases, but also for patients with complex diseases caused by IFN dysregulation," she said.