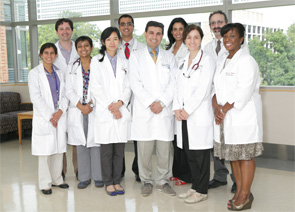 Some of NIAMS' rheumatology fellows and scholars, with the NIH Rheumatology Fellowship Program leadership. From left: Megha Sawhney, MD, rheumatology fellow; Peter Grayson, MD, MSc, Shulman Scholar and Fellowship Program associate director; Shubhasree Choudhury, MD, rheumatology fellow; Kyawt Schwin, MD, rheumatology fellow; Pravitt Gourh, MD, Shulman Scholar; Kam Newman, MD, rheumatology fellow; Seema Patel, MD, rheumatology fellow; Cornelia Cudrici, MD, Metzger Scholar; James Katz, MD, Fellowship Program director; and Sharon Hines, Fellowship Program coordinator.
"Research is a form of patient care."
—Paul H. Plotz, MD, NIH scientist emeritus
ADVERTISEMENT
SCROLL TO CONTINUE
In 2013, as part of an initiative to renew vasculitis-focused research at the National Institutes of Health (NIH), the National Institute of Arthritis and Musculoskeletal and Skin Diseases (NIAMS) recruited Peter Grayson, MD, MSc, as a Lawrence Shulman Scholar in Translational Research, a position named after NIAMS' first director. He would be joining a program started in 2008 by Daniel Kastner, MD, PhD, then the NIAMS clinical director and currently the scientific director at the National Human Genome Research Institute.
ADVERTISEMENT
SCROLL TO CONTINUE

Dr. Grayson
NIAMS is populated with distinguished leaders in rheumatology and immunology, and has a long tradition of scientific innovation. Still, Dr. Grayson says he "worried a bit," as he considered his move from Boston University to start the Vasculitis Translational Research Program, that clinical work might take a back seat to laboratory research. Instead, he found that NIAMS' marriage of research and clinical care creates an environment in which he can spend more time with patients. Daily interactions among basic scientists, clinical researchers and clinicians, coupled with "unparalleled" support from the research nursing staff, he says, enable staff to "push the boundaries of clinical care."
Dr. Grayson's experience echoes that of other faculty members in the NIAMS Intramural Research Program. Mariana Kaplan, MD, chief, Systemic Autoimmunity Branch, agrees that having access to the NIH Clinical Center is often key to advancing the science.
ADVERTISEMENT
SCROLL TO CONTINUE

Dr. Kaplan
Recruited to NIAMS from the University of Michigan to revitalize work in lupus, Dr. Kaplan is currently investigating abnormal neutrophils and NETs (neutrophil extracellular traps) in the pathogenesis of systemic autoimmune diseases and the mechanisms of premature vascular damage in such diseases as lupus and rheumatoid arthritis (RA). Working at NIAMS, she says, generates excitement because, "here you are actually expected to do high-risk science and test novel targets that could rapidly advance therapeutics in specific diseases."
"What we do well here," says John O'Shea, MD, NIAMS' scientific director and the 2014 recipient of the Ross Prize in Molecular Medicine, "is to think about disease on all the levels, from patients to the fundamental biochemical and molecular mechanisms."