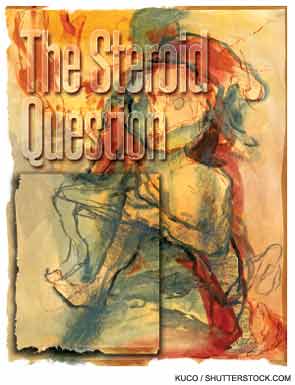 Editor's note: Read more about this research in a paper by Dr. Pincus and colleagues in our sister publication, Arthritis Care & Research.
ADVERTISEMENT
SCROLL TO CONTINUE
Textbooks of rheumatology and recommendations of professional societies have long suggested that glucocorticoids in rheumatoid arthritis (RA) should be used primarily as "bridging therapy," while awaiting the benefits of disease-modifying antirheumatic drugs (DMARDs), and/or in acute emergencies such as life-threatening vasculitis or vision-threatening scleritis. Recent EULAR recommendations reflect this directive.1 Nonetheless, many RA patients treated by rheumatologists take low-dose prednisone on a long-term basis. For example, in the international database of the Quantitative Clinical Assessment of Patients with Rheumatoid Arthritis (QUEST-RA) study, among 4,363 RA patients seen in usual care at 48 clinical sites (approximately 100 patients per site) in 15 countries, 66% of consecutive patients took glucocorticoids, including more than 70% in Argentina, Finland, France, Ireland, Serbia, and U.S., and more than 50% in seven other countries—all but Denmark (43%) and the Netherlands (26%) (see Table 1).2 Therefore, rheumatologists' experience suggests that long-term prednisone may be desirable for many, if not most, patients with RA.
ADVERTISEMENT
SCROLL TO CONTINUE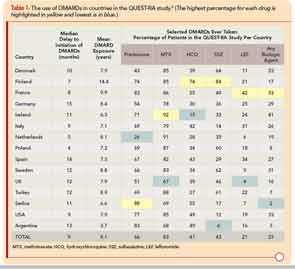 click for large version
Table 1: The use of DMARDs in countries in the QUEST-RA study.2 (The highest percentage for each drug is highlighted in yellow and lowest is in blue.)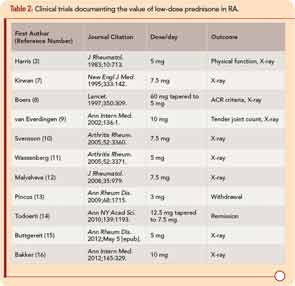 click for large version
Table 2: Clinical trials documenting the value of low-dose prednisone in RA.
Extensive use of low-dose prednisone at this time appears based in part on a reassessment of glucocorticoid therapy that began during the 1980s, with concurrent recognition of severe long-term outcomes of RA.3-5 The efficacy and safety of low-dose prednisone was documented in an open study reported in 1964, and a 24-week clinical trial reported in 1982.3,6 Since 1995, 11 double-blind RA clinical trials have provided strong evidence for the efficacy and safety of prednisone in doses of 10 mg/day or less over two years or less compared to a placebo.7-16 A withdrawal clinical trial documented clinical efficacy of prednisone in doses of 3 mg/day compared to placebo (see Table 2).13 Disease-modifying properties of low-dose prednisone or prednisolone of 5 mg/day, confirmed in meta-analyses, are of particular interest, as doses of 7.5–10 mg/day are associated with adverse effects and outcomes, including bone loss and higher mortality rates.3,11,17-22
ADVERTISEMENT
SCROLL TO CONTINUE
I have summarized treatment of RA patients with prednisone over 25 years between 1980 and 2004 at a weekly academic clinical setting, almost always with concomitant methotrexate after 1985.23-25 A database of all visits of all patients included medications; scores on a multidimensional health assessment questionnaire (MDHAQ) for functional status, pain, and routine assessment of patient index data (RAPID3); and self-report of possible adverse effects.26