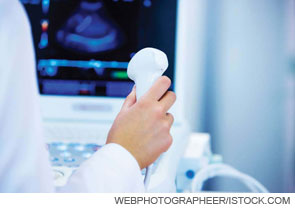 An example of a mobile, in-office ultrasound machine that can be used by rheumatology practices for diagnosis and treatment.
The uses of ultrasound (US) technology in rheumatology have been growing in importance over the last few years. Many rheumatologists are beginning to explore the possibility of adding US to their practices.
"Ultrasound is becoming the state of the art in diagnosis and treatment in the United States," says Jonathan Samuels, MD, assistant professor of medicine in the division of rheumatology at the New York University Hospital for Joint Diseases in New York City. "It is now considered by many to be a part of our physical examination, like a rheumatologist's other stethoscope."
With this technology, physicians can "see" inside the joint in real time and find indications of active inflammation or fluid—indicators that are often hard to find by palpation or visual assessment alone. There are also dynamic applications that allow physicians to assess a joint during movement. This is not possible using static modalities such as magnetic resonance imaging or computed tomography scans.
Diagnostic Uses
"From the diagnostic perspective, you are able to do a lot of things as a rheumatologist that you would not feel as comfortable doing, or do as well, without it," says Eugene Kissin, MD, associate professor of medicine at Boston University. "Sometimes we get a patient with joint pain, but nothing is found on the initial examination. It is nice to be able to see within minutes if, in fact, there is inflammation."
US is also finding more uses in helping physicians make treatment decisions. Dr. Kissin points to the patient who seems to be doing well and may be a candidate for lowering or even stopping medications. The images from the US could show subclinical activity resulting in a reevaluation of that decision.
"In one study of people presenting with ankle pain, an ultrasound was performed after the participating rheumatologists had completed their routine examination and had formulated a care plan," he says.1 "Most of the time, the additional information from the study caused revisions in the plan of care."
US in Treatment
After the plans are in place, US is proving helpful during treatment. Real-time guidance of needle placement for aspiration and medication administration allows the physician to be more confident that the needle is in the exact place it needs to be.