Several years later, the antiphospholipid antibody syndrome was described in the literature. Perhaps this is what caused my pregnancy loss followed by my cerebrovascular accident at the age of 31.
You Might Also Like
Explore This Issue
June 2014
Also By This Author
My RA has caused me to undergo 13 successful orthopedic surgeries. These include bilateral total hip arthroplasties, bilateral total hip revisions, a total shoulder arthroplasty, fusions of fingers and toes, bilateral bunionectomies, synovectomies and multiple arthroscopies. Orthopedic surgery is not easy, but the outcome has always been worth the effort.
ADVERTISEMENT
SCROLL TO CONTINUE
Cancer has been the most frightening of my diagnoses. I survived ductal invasive breast cancer in 2003, underwent a lumpectomy and endured chemotherapy with cyclophosphamide, methotrexate and 5-fluoruracil, followed by 33 radiation treatments. My radiation oncologist was skeptical that my RA would allow me to complete the radiation protocol, but I proved him wrong. Then, in 2012, my CEA tumor marker continued to rise, along with a 25 lb. unexplained weight gain and edematous lower extremities. My diagnosis was appendiceal cancer, or pseudomyxoma peritonei. Two mucinous tumors, one the size of a cantaloupe and the other a softball, were removed from my abdomen during a debulking surgery. This is a very rare cancer.
Perhaps my immunosuppessive medicines have contributed to my cancers. Because rituximab may have the lowest potential for causing malignancy, Dr. Gowing and I decided to switch to this drug.
ADVERTISEMENT
SCROLL TO CONTINUE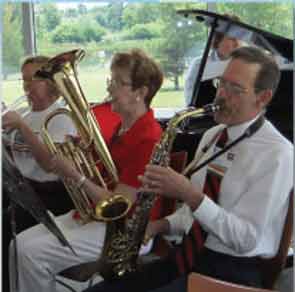 The author playing baritone horn, with her husband Gary on saxophone.
Urticarial vasculitis is another effect of long-term RA, and it began to affect me in 2010. This is being managed with dapsone. Felty's syndrome is also seen in RA, and mine is treated with methotrexate. I suffered two lumbar compression fractures in 2013, despite bisphosphonate therapy, and taking calcium and vitamin D supplements for years. I currently inject teriperatide daily.
I developed a tremor in my left hand in 2006, and I was diagnosed with Parkinson's disease. It's managed with Requip and carbidopa/levodopa and, fortunately, has not progressed.
ADVERTISEMENT
SCROLL TO CONTINUE
I have had more than my fair share of health problems in my life. I have managed them by education, acceptance, support, a positive attitude and much prayer.
Final Lesson
Assemble a team of health professionals and follow their advice.
In 1990, Jeanna Owens, MD, became my rheumatologist. Dr. Owens encouraged me to go on our family's trip to Florida, despite not feeling very well. Dr. Owens instructed me to rent a wheelchair at Disney World to save energy. I followed her advice. At the time, our children said, "It's great that you have arthritis, Mom, because with you in a wheelchair, we never have to wait in line!"