You Might Also Like
Explore This Issue
June 2014
Also By This Author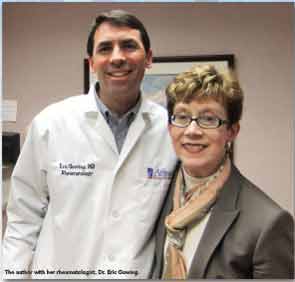 The author with her rheumatologist, Dr. Eric Gowing.
ADVERTISEMENT
SCROLL TO CONTINUE
In summer 1978, I began to experience bilateral heel and ankle pain, along with morning stiffness and severe fatigue. I was a 25-year-old registered nurse at Mercy Medical Center in Oshkosh, Wis. As I made rounds with the doctors and carried their patient charts—yes, nurses did that back then—every step hurt. Results of blood work revealed the presence of a high-titer rheumatoid factor, a positive antinuclear antibody and an elevated erythrocyte sedimentation rate. X-rays of my hands demonstrated demineralization, and both elbow joints showed effusions (see Figure 1).
For the past 36 years, rheumatoid arthritis (RA) has been an integral part of my life and has taught me valuable lessons.
ADVERTISEMENT
SCROLL TO CONTINUE
Lesson #1
The right medication is crucial.
Medication management is the foundation of successful RA treatment. I took 13 enteric-coated aspirin a day for the first year. This was useless; it was like trying to stop the Chicago fire with a wet handkerchief.
ADVERTISEMENT
SCROLL TO CONTINUE
In 1979, I was referred to Madison, Wis., rheumatologist Robert Bonebrake, MD. Dr. Bonebrake recommended I start hydroxycholoroquine (HCQ). Soon, I began to feel amazingly better on this "magic medicine."
After the HCQ stopped working in 1985, I was given gold injections, followed by oral gold.
I couldn't tolerate sulfasalazine, so d-penicillamine was next. This made me feel better, but I lost my ability to taste sugar and salt. Potato chips tasted pretty flat. I continued on the drug until 1992, when my platelet count dropped to 85,000.
I was on azathioprine from 1993 to 2003, when I developed breast cancer.
At this time, the explosion of biologics had ushered in the promise of amazing relief. I began taking etanercept, which made me feel like a new person. I continued on it until 2014, when I began rituximab infusions, as prescribed by Eric Gowing, MD, my current rheumatologist. In addition, I took short courses of prednisone interspersed as bridge therapy throughout my RA treatment, as well as many nonsteroidal antiinflammatory drugs (NSAIDs).
Warnings of side effects accompanied many drugs, but I decided my quality of life was more important than if I lived to be 80 but felt miserable.
Lesson #2
An RA patient can live a meaningful life and have a wonderful family.
I have been blessed with my supportive husband Gary, who is a medical technologist.