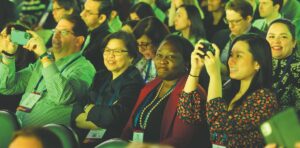 SAN DIEGO—"I'm going to get personal," said Kaleb Michaud, PhD, in the ARP Distinguished Lecture: From Then to Now to When—Perspectives from 45 Years of Patient Experience with Hope for Tomorrow on Monday, Nov. 13, at ACR Convergence 2023. Dr. Michaud proceeded to tell attendees his story—a patient perspective that he has never previously shared in his decades of ACR annual meeting attendance.
He explained why he's never talked about his condition publicly, saying that when he presented his first poster presentation at the ACR annual meeting in San Diego in 2001, "I saw how some patients were treated differently. Whether it was obvious they had arthritis or not, they were relegated to a different population than the researchers."
Dr. Michaud is a professor in the Division of Rheumatology and Immunology, University of Nebraska Medical Center, Omaha, and the director of FORWARD, The National Databank for Rheumatic Diseases. He has a doctorate in physics from Stanford University, Palo Alto, Calif., and has been a rheumatology researcher for 22 years. He also knows about rheumatic disease firsthand.
In 1977, when he was 3 years old, the young Kaleb had a limp and a swollen knee. Rheumatologist Frederick Wolfe, MD (1936–2023), diagnosed him with juvenile rheumatoid arthritis (JRA). Dr. Wolfe noted in the medical record that his young patient had been complaining of pain for a few months, but also wrote, "The child easily forgot the pain when the opportunity to play was given."
Pain and social connections were recurring themes of Dr. Michaud's lecture. So was the expectation of a short life. He was told he likely wouldn't live past the age of 26.
He needed an escape from the pain, and he got a dog. "Knowing someone else depends on you, in this case a dog, makes a difference in outcome."
The first pediatric rheumatologist he visited was in 1982 in Dallas, an eight-hour drive from his Kansas home. Pediatric rheumatologists were (and still are) few and far between. Illustrating how hard it can be to get a reliable diagnosis, Dr. Michaud said that at that time he was diagnosed with psoriatic arthritis, but that diagnosis did not follow him.
His arthritis was extensive and active. He talked about the painful surgery he underwent to straighten his feet so he could walk barefoot and go to the pool for the first time. He talked about having his toes and his wrists fused, and the pain he suffered simply shaking hands because of the position of the rod.
He was prescribed gold therapy. "Gold was painful," he said. He was still on gold therapy in 1990. Someone finally figured out that they could administer the gold therapy with lidocaine, helping with the pain.
When methotrexate became available to him at age 20, his rheumatologist told him it could kill him.
In 1998, "everything changed," he said. Celecoxib, a non-steroidal anti-inflammatory drug (NSAID) and a biologic tumor necrosis factor (TNF) inhibitor, was finally part of his drug armament.
Following surgery on his hand in 1999, the subsequent pain and rehabilitation interfered with his research. He talked about having an academic mentor in his PhD program who clearly didn't understand the debilitating effects of chronic illness and pain, but thought Kaleb should bounce back three weeks after wrist surgery like the students he knew who'd had ACL surgery.
Takeaways
While telling his story, Dr. Michaud asked questions of the rheumatologists and rheumatology professionals in the room. "How many of you look at your patients' feet?" he asked.
Before his thumb was fused, he discussed options with his surgeon: "It was very important to have my preferences heard," he said.
One surgery was done under local anesthetic, and he described the pain as excruciating. "It's important to know the intensity of pain to expect and how long it will last."
Give your patients the tools they need to take care of themselves. It took years, he said, for him to realize, "My doctor isn't the one taking care of me. I am."
He also shared with the audience activities that help him keep going. That list included occupational therapy, massage, mid-morning caffeine, getting at least seven or eight hours of sleep a night on a waterbed, CPAP, as well as "pet cat, play and read to kids, weekly board game."
Using several apps, Dr. Michaud meticulously tracks his activities to ensure that he can best keep up with all the professional and personal challenges that come his way.
He concluded with what he's looking forward to—the hope in the session title—a cure. To get there, this consummate researcher said, "We need to have evidence to know what works and what doesn't, as much as possible. Every experience should be some sort of data point that we can learn from."
Dr. Michaud's Key References
Wolfe F, Michaud K. The clinical and research significance of the erythrocyte sedimentation rate. J Rheumatol. 1994 Jul;21(7):1227–1237. PMID: 7966063.
Michaud K, Messer J, Choi HK, Wolfe F. Direct medical costs and their predictors in patients with rheumatoid arthritis: A three-year study of 7,527 patients. Arthritis Rheum. 2003 Oct;48(10):2750–2762. doi: 10.1002/art.11439. PMID: 14558079.
Michaud K, Pedro S, Gandhi S, Wolfe F. Persons with rheumatoid arthritis and long COVID had worse pre-COVID RA symptoms and worse non-RA symptoms, as well as higher rates of fibromyalgia compared with COVID infected long COVID negative [abstract]. Arthritis Rheumatol. 2023;75(suppl 9).
In Case You Missed It
This session is available on demand for registered ACR Convergence 2023 participants through Oct. 31, 2024, on the meeting website.
---
Keri Losavio is the editor of The Rheumatologist.