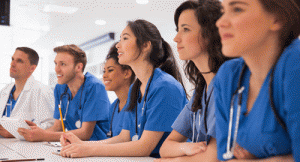 Change is hard. Asking educators to fundamentally alter the way they train physicians falls into the extremely difficult category. And yet, a rheumatologist closely tied to the Accreditation Council for Graduate Medical Education's (ACGME's) Next Accreditation System (NAS) remains positive and hopes his peers will be patient with the new, outcomes-based approach.
You Might Also Like
Also By This Author
"We all agree that the old accreditation process was variable. The site visit was a painful, invasive process. It felt like a biopsy, and all other real work ground to a halt," says Calvin Brown Jr., MD, of the Division of Rheumatology at Northwestern University's Feinberg School of Medicine in Chicago. "I believe this new system is geared to be better to focus on what is produced from our training programs. We have to implement it, try it and then measure its results."
ADVERTISEMENT
SCROLL TO CONTINUE
Dr. Brown, who first started working on the NAS as a member of the ACR's Committee on Workforce and Training and, later, as a member of the ACR's NAS Working Group, says he supports the new system because "it wasn't dictated to us," but rather it was a collaborative process among key stakeholders. The NAS has 23 subspecialty reporting milestones and 14 rheumatology entrustable professional activities (EPAs) that "stipulate reasonable and measurable expectations for rheumatologists-in-training," according to a paper accepted for publication in Arthritis Care & Research, for which Dr. Brown is lead author.1
ACGME began the arduous—and unpopular task—of reshaping the way U.S. physicians are trained and regulated nearly two decades ago by establishing core competencies. In 2009, the group began working with educators to establish subspecialty milestones and EPAs. By 2014, the NAS was implemented nationwide.
ADVERTISEMENT
SCROLL TO CONTINUE
Although he has witnessed positive results, Dr. Brown admits the new process is time consuming.
"It takes away from our other responsibilities, [such as] seeing patients, writing grants and, for some of us, working in the laboratory," Dr. Brown says. "This [system] will compete with that time. … What price do we pay? Do we take this time from our personal lives, family time or other demands of our jobs?"
He notes that the skeptics are awaiting data that show the system is better, and no such data exist yet. For now, he's taking the long view.
ADVERTISEMENT
SCROLL TO CONTINUE
"This fellowship education process is so valuable to us, not just us as educators and rheumatologists, but to 'us' as a society, as a whole," Dr. Brown says. "The same way we talk about how important our children's teachers are, well, we are the teachers that teach the doctors [who] we all need at some point in our life. We have to find a way to value that."
---
Richard Quinn is a freelance writer in New Jersey.
Reference
Brown CR Jr, Criscione-Schreiber L, O'Rourke KS, et al. What is a rheumatologist and how do we make one? Arthritis Care Res (Hoboken). 2015 Dec 14. doi: 10.1002/acr.22817. [Epub ahead of print]