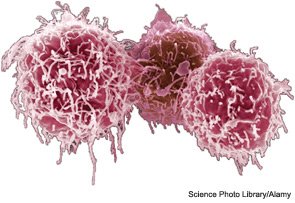 Colored scanning electron micrograph of B lymphocyte white blood cells.
Historically, granulomatosis with polyangiitis (Wegener's granulomatosis; GPA) and microscopic polyangiitis (MPA) were usually relentlessly progressive and often fatal illnesses. Immunosuppressive therapy has converted these diseases, which are often referred to collectively as antineutrophil cytoplasmic antibody (ANCA)–associated vasculitis (AAV), into chronic conditions in which remission is usually achieved, but subsequent relapse is common and yet unpredictable in its timing.
Because treatment with glucocorticoids combined with either cyclophosphamide, rituximab, or methotrexate leads to remission in the great majority of patients, identifying optimal strategies to maintain remission with minimal toxicity has become nearly as important a research topic as refining remission-induction regimens, and one that is highly relevant to clinical practice. Maintenance regimens have been compared in recent randomized clinical trials, but many unanswered questions remain. I will summarize these trials, highlight the important remaining questions, review the observational data that can be used to address these questions while we await trial results, and conclude with examples of how I use the available data to guide management of different types of patients.
Effects of Remission-Induction Regimen and Other Factors on Relapse Rates
Randomized trials are particularly important for answering questions about remission-maintenance in AAV for three reasons. First, subsets of AAV defined by ANCA specificity have different relapse rates. Multiple studies have indicated that patients with antibodies to myeloperoxidase (MPO) have relapse rates about 50% lower than patients with antibodies to proteinase-3 (PR3).1,2 Second, and not surprisingly, patients who have relapsed in the past are more likely to relapse again. Thus, comparing relapse rates between trials with different percentages of anti–MPO-positive patients and/or of newly diagnosed patients is problematic.