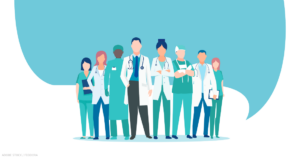 According to the Agency for Healthcare Research and Quality (AHRQ), a leading cause of medical errors and poor care is a lack of communication between healthcare providers.1 As healthcare has evolved, the importance of holistic care has become more and more evident, particularly in the realm of chronic disease.
The World Health Organization defines interprofessional (IP) collaborative practice as "multiple healthcare workers from different professional backgrounds working together with patients, families, and communities to deliver the highest quality of care."2
The Interprofessional Education Collaborative (IPEC) expanded on this definition by identifying four competency domains:
Values/ethics;
Roles/responsibilities;
Interprofessional communication; and
Teams/teamwork.
To work together effectively, an understanding of the roles, skills and expertise of everyone on the healthcare team is an essential first step.
Shirey et al. developed an interprofessional collaborative practice using a deference to expertise model, which is not based on a fixed hierarchy, but on a shifting one in which the profession with the needed skills takes the lead, depending on the needs of the patient at any given period of time.3,4
Patients with rheumatic disease benefit from IP team care because their needs shift in response to disease progression, life changes, workload, emotional burden, financial crisis, injuries, functional decline and response to medication. One patient may need emotional support from a counselor or psychologist as a priority. Another may need a physical therapist (PT) or occupational therapist (OT) to address functional decline and disease self-management. The next patient may need help managing medications from a pharmacist or rheumatologist, and another may need dietary counseling for weight loss. Six months later, all of these patients' needs will have likely shifted, requiring a different combination of interventions. The bottom line is that it truly does take a village to manage rheumatic diseases.
Taking into account the results of the 2022 ARP Practice Committee focus groups, as well as the ACR/ARP member survey, the ARP Practice Committee is developing IP Fact Sheets targeted toward healthcare providers to assist them in determining the needs of their practices and the benefits of partnerships with a network of providers in their communities.
Each sheet covers a different profession, providing information on their role and skill set, what they can do for a patient with rheumatic disease, education and licensing requirements, and links to their professional organizations where more information can be found on their professional values and ethics.