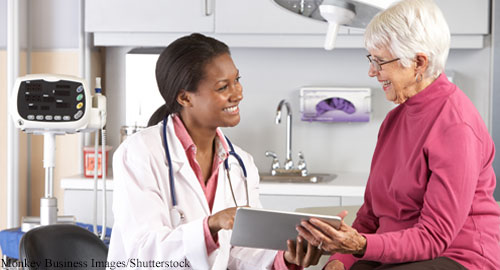 Rheumatologists and geriatricians share many things in common. At heart, they are internists. Their numbers are few compared with their patient populations. They are trained to work in combination with care teams, and as 75 million baby boomers move into their later years, rheumatologists and geriatricians likely will be sharing a lot more patients.1 During interviews with The Rheumatologist, three clinicians identified a number of areas in which rheumatologists and geriatricians can improve treatment for these patients and discussed the partnership between specialties.
Also By This Author
The most common area of concern among rheumatologists is choice of medications for geriatric patients seeking relief from joint pain. Many primary care physicians, including geriatricians, are insufficiently dosing Tylenol or are "scared to use NSAIDs [non-steroidal anti-inflammatory drugs]," according to Shailendra Singh, MBBS, director of rheumatology at White River Medical Center in Batesville, Ark.
ADVERTISEMENT
SCROLL TO CONTINUE
"[Acetaminophen] should be the first choice. It is [conditionally] recommended by the American College of Rheumatology [ACR], and it should be taken at the appropriate dose," he says. "A lot of people say they are taking Tylenol, but they are taking an inadequate dose. It doesn't help if they aren't taking the right dose. Tylenol 325 mg—the most common over-the-counter dose—has antipyretic properties, but not analgesic [properties]. Tylenol arthritis or regular Tylenol at 650 mg or more provides an adequate analgesic effect. The total dose should not exceed 4 g [with in a 24-hour period], as long as there is no contraindication for Tylenol use."2
Dr. Singh, who is board eligible in geriatric medicine, also encourages the use of NSAIDs as front-line therapy, even combining Tylenol and NSAIDs for pain control. He says both treatments are underused in elderly populations due to concerns of gastrointestinal bleed and kidney problems.3
ADVERTISEMENT
SCROLL TO CONTINUE
"As long as their kidney function is normal, NSAIDs can be used," he says. "Patients should stay well hydrated and never take the medication on an empty stomach. … Combining Tylenol arthritis with NSAIDs has really wonderful results, and with this combination, we can prevent the use of narcotics."
Immunosuppressants tend to raise red flags in elderly patients, says Erin M. Bauer, MD, a rheumatologist at Virginia Mason Medical Center in Seattle. She also says geriatricians should not be afraid of or caution patients against these treatments.
"All of the more recent data show that the risks are probably not as bad as we used to think they were—especially in terms of the cancer risks," she says. "The infectious risks are certainly there, but I think that they get a little blown out of proportion. … We have really great medicines. Although they do have some serious risks and side effects, they can really change a person's quality of life."