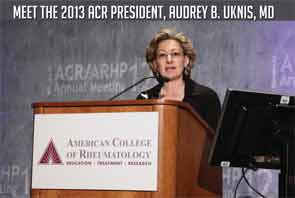 Audrey B. Uknis, MD, at the ACR Town Hall Meeting in Washington, D.C.
For two decades, Audrey B. Uknis, MD, has served the ACR in various capacities. Having held positions from founding member of ACR's Regional Advisory Council, to chair of the Continuous Professional Development Subcommittee and American Board of Internal Medicine (ABIM) Liaison Committee on Recertification, to co-chair of the ACR Strategic Planning Committee, Dr. Uknis is now adding ACR president to her list of volunteer roles.
A rheumatologist and professor at Temple University School of Medicine in Philadelphia, Dr. Uknis was named 2013 president at the ACR's annual business meeting held last month during the ACR/ARHP Annual Meeting in Washington, D.C.
ADVERTISEMENT
SCROLL TO CONTINUE
Dr. Uknis is a professor of medicine and senior associate dean for admissions and strategy at Temple University. She completed her undergraduate, medical education, and postgraduate medical training in internal medicine and rheumatology at Temple University School of Medicine. Dr. Uknis also completed a research fellowship at Temple's Sol Sherry Thrombosis Research Center.
Dr. Uknis' early career highlights include the ACR's Physician Scientist Development Award and a National Institutes of Health (NIH) Clinical Scientist Development Award. She received the 2005 Joseph Lee Hollander Award from the Arthritis Foundation, Southeast Pennsylvania Chapter, for excellence and achievement in the field of rheumatology. She has served as the physician secretary of the ABIM's subspecialty board on rheumatology, and is a member of the Alpha Omega Alpha medical honor society. She has served as president of the Philadelphia Rheumatism Society, and is listed in the professional directories Best Doctors in America and Who's Who of American Women.
ADVERTISEMENT
SCROLL TO CONTINUE
Actively engaged throughout her career in patient care activities, Dr. Uknis serves as the codirector of Temple's Lupus Center. She has also held additional roles, including director of the rheumatology fellowship program and co–course director for Temple's Doctoring course, the largest longitudinal component of the medical school's curriculum. In addition, Dr. Uknis has led program development activities that include both novel Post-Baccalaureate and International Medical Scholars Programs at Temple.
One of Dr. Uknis' highest priorities for her presidency "will be to build a robust program for professional development to cultivate the future leaders in every facet of our field," she says.
---
Dr. Uknis can be contacted at [email protected].