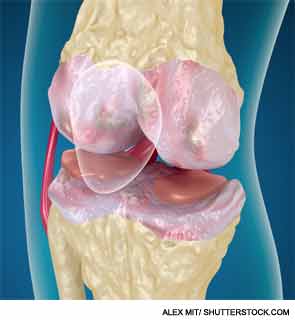 Osteoarthritis of the knee.
ADVERTISEMENT
SCROLL TO CONTINUE
SNOWMASS, CO—The go-to medication for treating rheumatoid arthritis (RA)—methotrexate—also has potential for mitigating inflammatory bone disease, according to Bruce Cronstein, MD, Paul R. Esserman professor of medicine, director of NYU-HHC Clinical and Translational Science Institute in New York City, who presented Taking a Bite Out of Inflammatory Bone Disease at the ACR's Winter Rheumatology Symposium this January. During his presentation, Dr. Cronstein reviewed the biology of bone homeostasis and discussed how regulating certain molecules may reduce bone destruction in inflammatory arthritis, as well as in inflammatory osteolysis in prosthesis loosening.
Osteoneurology & Axonal Guidance Proteins
The foundation of osteoneurology is that neuronal mediators regulate bone homeostasis, Dr. Cronstein said. Adenosine receptors (A1, A2A, A2B and A3) play a key role in the central nervous system, where they were first described. Specifically, A1 receptors mediate sedation and sleep, and A2A receptors are involved in coordination. A2A receptors also inhibit osteoclast differentiation and stimulate osteoblast expression of axonal guidance proteins, which further regulate osteoclast differentiation.
ADVERTISEMENT
SCROLL TO CONTINUE
Dr. Cronstein gave several examples of axonal guidance proteins that have roles in bone homeostasis, including netrin-1, semaphorin 4D (Sema4D) and semaphorin 3A (Sema3A). Axonal guidance proteins are also known to "mediate osteoclast–osteoblast interactions in inflammatory bone lesions," Dr. Cronstein added.
Netrin-1 is a chemorepulsant that plays a role in immunity and inflammation and is required for osteoclast differentiation. Stimulation of adenosine A2A receptors inhibits expression of netrin-1 and its receptor Unc5b during osteoclastogenesis, and blocking netrin-1 or Unc5b diminishes inflammatory bone destruction.
Sema4D is secreted by osteoclasts and inhibits osteoblast bone formation, whereas Sema3A is secreted by sensory neurons and osteoblasts, and inhibits osteoclast differentiation. Like netrin-1, both are specifically affected by adenosine receptors. Laboratory studies show that adenosine receptors suppress Sema4D expression by osteoclasts, which potentially stymies bone loss, and stimulate Sema3A expression by osteoblasts, which potentially promotes bone growth. Because of this link, Dr. Cronstein said, axonal guidance proteins may be novel targets for the treatment of bone disease.
ADVERTISEMENT
SCROLL TO CONTINUE
Further, Dr. Cronstein said, research has shown that Sema3A regulates bone mass accrual through sensory innervations.1 The researchers noted that in animal models, Sema3A is abundantly expressed in bone, and it affects osteoblast differentiation. They tested several cases in mice, including Sema3A knockout mice, osteoblast-specific Sema3A-deficient mice, and mice lacking Sema3A in neurons. Based on their results, the researchers concluded the Sema3A that regulates bone density is made by the peripheral nerves.
Biology of Inflammatory Bone Disease
In patients with inflammatory processes, such as RA or osteoarthritis (OA), the balance between osteoblasts and osteoclasts tips, leading to increased bone loss. By regulating the molecules that promote or inhibit osteoclast/osteoblast processes (e.g., differentiation, communication), it's possible to mediate bone loss, Dr. Cronstein said.