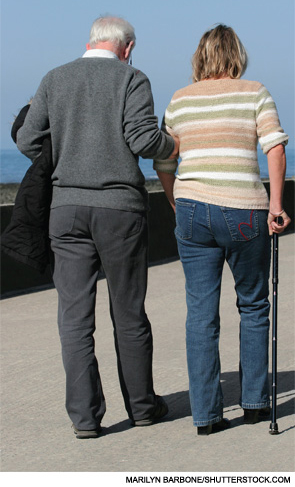 Research shows that patients with RA are living longer.
Although current research shows that mortality rates remain higher in patients with rheumatoid arthritis (RA) compared with people without RA, emerging research suggests that survival is improving.
You Might Also Like
Explore This Issue
October 2014
Also By This Author
Recent data from a study presented at the British Society of Rheumatology (BSR) meeting showed a dramatic increase in life expectancy in patients with RA over the past 25 years in the United Kingdom.1
ADVERTISEMENT
SCROLL TO CONTINUE
According to lead author of the study, Sam Norton, PhD, Psychology Department, Institute of Psychiatry King's College London, U.K., who presented the findings at the April meeting, the study found that the life expectancy for people with RA in the U.K. has increased by about 10 years over the past 25 years, similar to that seen in the general population.
Importantly, preliminary evidence suggested a reduction in excess mortality risk seen in people with RA. The study found a 27% decrease in excess all-cause mortality over 25 years, mainly seen in patients younger than 55 years old, largely driven by reductions in excess mortality due to cardiovascular morbidity.
ADVERTISEMENT
SCROLL TO CONTINUE
"These findings are preliminary, and we have no clear answer for what might account for this increase in life expectancy," he emphasizes. "We are in the process of examining whether the dramatic increase in life expectancy is due to changes in a particular cause of death, such as cardiovascular disease."
Drilling Down
The study used outcomes data from two prospective observational cohort studies of patients not treated by disease-modifying antirheumatic drugs (DMARDs) at the time of study enrollment: the Early Rheumatoid Arthritis Study (ERAS), which recruited 1,460 patients between 1986 and 1998, and the Early Rheumatoid Arthritis Network (ERAN), which recruited 1,252 patients between 2002 and 2012.
The study found a significant association between the year of symptom onset and risk of all-cause mortality risk, with a hazard ratio of 0.96 (95% confidence interval [CI], 0.95–0.98). This represented a 3.5% reduction in the relative hazard of death from any cause per year, and translated to an increasing median age at death from 76.7 years in 1986 to 86.7 years in 2012.
ADVERTISEMENT
SCROLL TO CONTINUE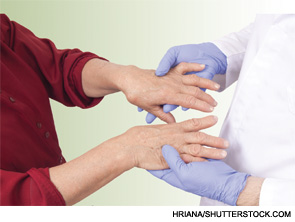 Early, aggressive treatment helps RA patients beat the odds of early mortality.
The study also found that the excess morality risk in patients with RA reduced over time compared with the general population, with all-cause standardized mortality ratio (SMR) significantly increased in the ERAS cohort (SMR = 0.94; 95% CI, 1.20–1.39). No significant increase was seen in the ERAN cohort (SMR = 0.94; 95% CI, 0.78–1.13).