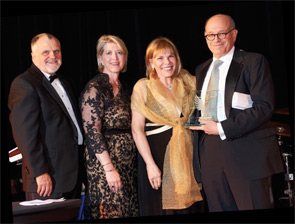 Left to right: John Klippel, MD, AF president and CEO; Barbara Newhouse, AF Mid Atlantic Region president and CEO; Beth Nolan, senior vice president and general counsel at George Washington University; and Dr. Borenstein.
The Arthritis Foundation (AF) Mid Atlantic Region recently honored ACR President David G. Borenstein, MD, with the Marriott Lifetime Achievement Award for his work with the foundation and his dedication to the fight against arthritis.
"Dr. Borenstein represents all that's very good about physicians," says AF's Mid Atlantic Region Chief Strategy Officer Calaneet Balas, noting that selecting him was "a slam dunk."
The selection committee looks for people or organizations committed to changing the welfare of people with arthritis. Dr. Borenstein is deeply committed to his patients regardless of his other roles as a leader on the national stage, says Balas. "I think he's always trying to make sure that both the patient and the physician are being thought of when there are changes in healthcare, and that's a pretty unique person. Most people fall on one side or the other in their vision."
Rheumatologist Patience H. White, MD, a professor of medicine and pediatrics at George Washington University School of Medicine in Washington, D.C., and the AF's vice president of public health, describes Dr. Borenstein, a longtime friend and colleague, as a convincing advocate for rheumatologists. He is a good communicator and an outstanding physician and author at the top of his game. "He's approachable. He's articulate and warm and funny—a great sense of humor," says Dr. White. "And that's a great combination. He gets people's attention. Last but not least, he is a fabulous father of three very accomplished young women … and has a wonderful wife who is a lawyer. They are just a wonderful family."
Dr. Borenstein maintains a practice in Washington, D.C. and continues to be involved in patient advocacy and public policy in his current role as ACR president. He is also clinical professor of rheumatology at George Washington University Medical Center.
Long Relationship with AF
Dr. Borenstein's association with the AF reaches back more than 30 years. The foundation helped him early on to develop his areas of research, awarding him a grant in 1978 to study infectious arthritis at George Washington University Medical Center, he says. He subsequently joined AF's medical advisory committee and later served as a board member and vice president of the local chapter from 2006 to 2007. He left that post when he became the ACR treasurer.