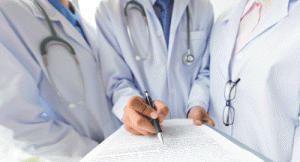 First-of-their-kind recommendations provide U.S.-based clinicians a clear direction for treating patients with ankylosing spondylitis (AS) and nonradiographic axial spondyloarthritis (nr-axSpA), according to a member of the working group that developed the guideline.¹
You Might Also Like
Also By This Author
The treatment recommendations, published in the February 2016 issue of Arthritis & Rheumatology, were a joint effort by the American College of Rheumatology, the Spondylitis Association of America and the Spondyloarthritis Research and Treatment Network (SPARTAN).
ADVERTISEMENT
SCROLL TO CONTINUE
"The guideline affirms the role of NSAIDs as first-line treatment in active AS and of TNF inhibitors as second-line therapies in case NSAIDs fail to provide sufficient symptomatic relief," says Joerg Ermann, MD, a rheumatologist at Brigham and Women's Hospital in Boston, member of the SPARTAN research committee and contributor to the new recommendations. "An adequate trial of NSAIDs, according to the recommendations, is a 'lack of response [or intolerance] to at least two different NSAIDs over one month or incomplete responses to at least two different NSAIDs over two months.'
"From a practical perspective, see the patient, make a plan to try one NSAID at full dose, and if that doesn't work, try a second one. And if neither sufficiently relieves symptoms, then move on to a TNF inhibitor. There is no role for traditional [disease-modifying anti-rheumatic drugs] or systemic corticosteroids in treating axial symptoms in SpA."
ADVERTISEMENT
SCROLL TO CONTINUE
Dr. Ermann notes that the new guideline is similar to that previously published by the European group, Assessment of SpondyloArthritis International Society (ASAS), but reflects the clinical practice of rheumatology in North America. Most notably in the new guideline, there are no threshold values for the patient's BASDAI or ASDAS to initiate TNF inhibitor therapy.
"The guideline also confirms nr-axSpA as a disease entity," he says. "We reviewed the literature separately. Nr-axSpA, as of today, is not an FDA-approved indication for treating patients with TNF inhibitors. However, the literature suggests that these drugs are indicated for patients with nr-axSpA."
The working group used the GRADE (Grading of Recommendations, Assessment, Development and Evaluation) methodology to assess the quality of evidence. Dr. Ermann notes the literature reviews revealed a lack of solid evidence for clinical care of patients with axial SpA.
ADVERTISEMENT
SCROLL TO CONTINUE