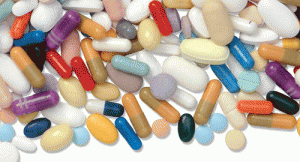 Anifrolumab for Moderate to Severe SLE
The efficacy and safety of anifrolumab (ANIFR), an anti-interferon receptor monoclonal antibody, was assessed in 305 adults with sero-positive moderate to severe systemic lupus erythematosus (SLE), despite standard-of-care medication. This study was a randomized, double-blind, placebo-controlled Phase 2 study.1
Also By This Author
Patients received either 300 mg or 1,000 mg ANIFR intravenously or placebo every four weeks for 48 weeks. The primary endpoint was a composite of Systemic Lupus Erythematosus Responder Index [SRI4] response at Day 169 with sustained reduction in oral steroid use (less than 10 mg daily and less than the Day 1 dose, maintained between Days 85 and 169).
ADVERTISEMENT
SCROLL TO CONTINUE
At Day 169, 34% of 300 mg ANIFR-treated patients met the primary endpoint, as well as 29% of 1,000 mg ANIFR-treated patients, compared with 18% of placebo-treated patients. At Day 365, the secondary SRI endpoint was met by 52% of 300 mg-treated patients (P<0.001 vs. placebo), 39% of 1,000 mg-treated patients and 26% of placebo-treated patients. At Day 365, oral steroids were reduced to ≤7.5 mg per day in 27% of placebo-treated patients, 56% of 300 mg-treated patients and 32% of 1,000 mg-treated patients.
Multiple global and organ-specific benefits were associated with ANIFR use, including a greater than 50% reduction in 28-joint count evaluation compared with placebo. Serious adverse events were reported in 19% of placebo-treated patients and 17% of pooled ANIFR-treated patients. In the ANIFR-treated patients, a higher frequency of influenza and Herpes Zoster was reported.
ADVERTISEMENT
SCROLL TO CONTINUE
In Europe, Secukinumab Approved for AS & PsA
Secukinumab (Cosentyx), an IL-17 inhibitor already approved in the U.S. to treat moderate to severe plaque psoriasis, has recently been approved in Europe to treat adults with ankylosing spondylitis (AS) who have not responded to conventional therapy and adults with active psoriatic arthritis (PsA) for whom disease-modifying anti-rheumatic drug therapy has not provided an adequate response.2
In clinical trials, a significant reduction in AS or PsA signs and symptoms was seen within Weeks 1–3 after starting treatment. This symptom reduction was sustained over two years. Up to 80% of AS patients who received secukinumab showed no progression of spinal damage, which was measured by X-ray over two years. In PsA patients, 84% showed no joint damage progression.
Michele B. Kaufman, PharmD, CGP, RPh, is a freelance medical writer based in New York City and a pharmacist at New York Presbyterian Lower Manhattan Hospital.
ADVERTISEMENT
SCROLL TO CONTINUE