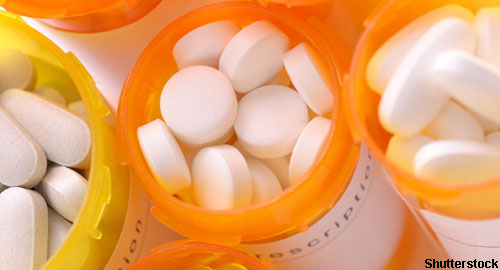 Generic 2% Diclofenac Sodium Now Available
A 2% diclofenac sodium topical solution is now available in a generic form to treat knee osteoarthritis.1 The treatment was originally approved by the U.S. Food and Drug Administration (FDA) in 2014 under the brand name Pennsaid from Horizon Pharmaceuticals.2
Post-Teriparatide Denosumab More Effective Than Bisphosphonates for Osteoporosis
After 18–24 months, the sequential treatment of osteoporosis with denosumab promoted significantly greater bone mineral density (BMD) increases compared with bisphosphonates in women with severe postmenopausal osteoporosis who had stopped teriparatide treatment. This result comes from a retrospective, observational study presented at the 19th European Congress of Endocrinology in Lisbon, Portugal.3
During the study, 140 women from a clinic in Slovenia used bisphosphonates (i.e., alendronate, risedronate, ibandronate or zoledronic acid) with denosumab (n=70) or without denosumab (n=70), after receiving teriparatide treatment. All patients received 1,000 IU vitamin D3 daily, with instructions to take 1,200 mg calcium daily. Lumbar spine BMD, total hip BMD and femoral neck BMD were measured via DXA when teriparatide was stopped and after 12 months of denosumab treatment. Lower BMD increases were noted for bisphosphonate-only-treated patients compared with denosumab-treated patients in femoral neck and lumbar spine BMDs. A trend toward a lower rate of new fractures with denosumab compared with bisphosphonates (5.7% vs. 17.1%, respectively) was also noted.4 Initially, around 90% of patients had prevalent vertebral fractures. The patients also had similar baseline clinical characteristics, except that total hip BMD was greater for denosumab-treated patients compared with bisphosphonate-treated patients (0.739 g/cm3 vs. 0.694 g/cm3, respectively).
Sarilumab Receives FDA Approval
The FDA has approved sarilumab (Kevzara) to treat adult patients with moderate to severe active rheumatoid arthritis (RA) who have had an inadequate response to or intolerance of one or more disease-modifying anti-rheumatic drug (DMARD), such as methotrexate.5 Sarilumab is a human monoclonal antibody that binds to the interleukin 6 receptor (IL-6R), inhibiting IL-6R-mediated signaling.
In the SARIL-RA clinical study, sarilumab demonstrated statistically significant and clinically meaningful improvements in reducing the signs and symptoms of RA, as well as improving physical function in adults with RA. Study results showed significantly less radiographic progression of structural RA damage. Sarilumab has been approved as monotherapy or for use in combination with methotrexate or other conventional DMARDs. The recommended dose is 200 mg taken subcutaneously as a self-administered injection once every two weeks. To manage neutropenia, thrombocytopenia and/or liver enzyme elevations, the dose can be reduced to 150 mg.