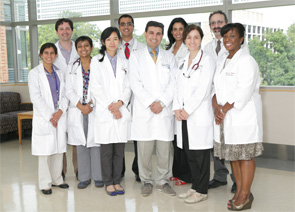 Some of NIAMS' rheumatology fellows and scholars, with the NIH Rheumatology Fellowship Program leadership. From left: Megha Sawhney, MD, rheumatology fellow; Peter Grayson, MD, MSc, Shulman Scholar and Fellowship Program associate director; Shubhasree Choudhury, MD, rheumatology fellow; Kyawt Schwin, MD, rheumatology fellow; Pravitt Gourh, MD, Shulman Scholar; Kam Newman, MD, rheumatology fellow; Seema Patel, MD, rheumatology fellow; Cornelia Cudrici, MD, Metzger Scholar; James Katz, MD, Fellowship Program director; and Sharon Hines, Fellowship Program coordinator.
"Research is a form of patient care."
—Paul H. Plotz, MD, NIH scientist emeritus
ADVERTISEMENT
SCROLL TO CONTINUE
In 2013, as part of an initiative to renew vasculitis-focused research at the National Institutes of Health (NIH), the National Institute of Arthritis and Musculoskeletal and Skin Diseases (NIAMS) recruited Peter Grayson, MD, MSc, as a Lawrence Shulman Scholar in Translational Research, a position named after NIAMS' first director. He would be joining a program started in 2008 by Daniel Kastner, MD, PhD, then the NIAMS clinical director and currently the scientific director at the National Human Genome Research Institute.
ADVERTISEMENT
SCROLL TO CONTINUE

Dr. Grayson
NIAMS is populated with distinguished leaders in rheumatology and immunology, and has a long tradition of scientific innovation. Still, Dr. Grayson says he "worried a bit," as he considered his move from Boston University to start the Vasculitis Translational Research Program, that clinical work might take a back seat to laboratory research. Instead, he found that NIAMS' marriage of research and clinical care creates an environment in which he can spend more time with patients. Daily interactions among basic scientists, clinical researchers and clinicians, coupled with "unparalleled" support from the research nursing staff, he says, enable staff to "push the boundaries of clinical care."
Dr. Grayson's experience echoes that of other faculty members in the NIAMS Intramural Research Program. Mariana Kaplan, MD, chief, Systemic Autoimmunity Branch, agrees that having access to the NIH Clinical Center is often key to advancing the science.
ADVERTISEMENT
SCROLL TO CONTINUE

Dr. Kaplan
Recruited to NIAMS from the University of Michigan to revitalize work in lupus, Dr. Kaplan is currently investigating abnormal neutrophils and NETs (neutrophil extracellular traps) in the pathogenesis of systemic autoimmune diseases and the mechanisms of premature vascular damage in such diseases as lupus and rheumatoid arthritis (RA). Working at NIAMS, she says, generates excitement because, "here you are actually expected to do high-risk science and test novel targets that could rapidly advance therapeutics in specific diseases."
"What we do well here," says John O'Shea, MD, NIAMS' scientific director and the 2014 recipient of the Ross Prize in Molecular Medicine, "is to think about disease on all the levels, from patients to the fundamental biochemical and molecular mechanisms."

Dr. O'Shea
Three factors contribute to the NIAMS Intramural Program's stature as both a training and an innovation center, says Dr. Kastner: investigators are hired to develop their own programs, driven by their own interests and curiosity, without the need to apply for grants; high-risk, high-reward projects are encouraged; and the leadership throughout NIAMS' history has set the tone for research excellence.

Dr. Kastner
'Twas Ever Thus
Although there have been many transformations in the structure of the NIH since 1950 when the first arthritis program was established, the spirit of discovery has been a constant. Paul H. Plotz, MD, MACR, NIH scientist emeritus and and winner of the ACR Presidential Gold Medal in 2013, first joined the program in 1965 and spent his entire career there, except for a two-year fellowship at the National Institute for Medical Research at Mill Hill, London, from 1968–70. During his 50 years with the program, he has served as chief of the Arthritis and Rheumatism Branch, acting scientific director and acting deputy director, in addition to conducting his own research. "I've lived through about six different names [of the Institute]," he jokes. (The current NIAMS was established in 1986; to learn more about the key events in NIAMS' history and legislative chronology establishing the Institute, visit http://www.nih.gov/about/almanac/organization/NIAMS.htm.)

Dr. Plotz
Dr. Plotz enumerates the achievements of some of the early leaders at the Institute, including John Decker, MD, "responsible for the shape and flavor of the rheumatology program in the institute"; and Henry Metzger, MD, who is a member of the National Academy of Sciences and responsible for characterizing the structure of IgM.
During those early days, Dr. Plotz also worked alongside other greats, such as gout experts J. Edwin Seegmiller, MD, and William M. Kelley, MD. And before Dr. Plotz arrived, research by Joseph Bunim, MD, and Watson Buchanan, MD, resulted in the publication of a seminal article on the clinical characteristics of Sjögren's syndrome.
"Historically, NIAMS has played a key role in the treatment of lupus nephritis, through methods developed here in large longitudinal studies. And very good genetics work is being done in various parts of our Institute," Dr. Plotz adds.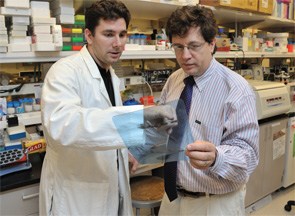 Dr. Siegel (right) in the lab, where breakthroughs in the treatment of autoimmune diseases have been made.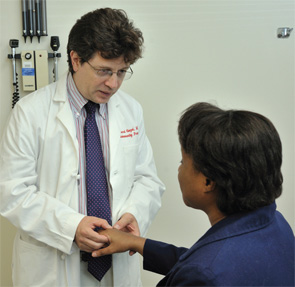 Above: Dr. Siegel (left) examines a patient in the clinic. He notes the use of cyclophosphamide in vasculitis and lupus, and the first use of methotrexate for nonmalignant disease, were pioneered at the NIH. Below: Dr. O'Shea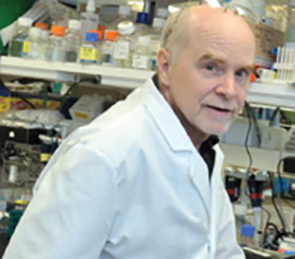 No Resting on Laurels
Richard Siegel, MD, PhD, NIAMS clinical director and chief, Immunoregulation Section, Autoimmunity Branch, notes that, in recent decades, other advancements in the understanding and treatment of rheumatic disease have emanated from the NIH. For example, the use of cyclophosphamide in vasculitis and, later, in lupus and the first use of methotrexate for nonmalignant disease were both pioneered at the NIH.

Dr. Goldbach-Mansky
Dr. O'Shea, a physician and immunologist at the NIH for 33 years, has made fundamental discoveries related to cytokine signaling, molecular causes of primary immunodeficiencies and the genetic basis of autoinflammatory disorders. His work on Janus kinase (JAK) inhibitors through a Cooperative Research and Development Agreement with Pfizer resulted in a U.S. patent for a new class of immunosuppressive drugs, which includes tofacitinib. Tofacitinib has recently been approved by the FDA for the treatment of rheumatoid arthritis and is being studied for use in a number of other conditions.
Raphaela Goldbach-Mansky, MD, MHS, investigator and acting chief of the Translational Autoinflammatory Disease Section, has taken advantage of these developments, which have amplified her work characterizing immune dysregulation in pediatric patients with often monogenic autoinflammatory diseases. The ability to combine genetic and clinical studies at NIAMS has resulted in several translational examples "where we found a mutation and, based on that mutation, identified a treatment that we were then able to implement," she says.
Example: She performed functional studies in patients with a rare disease, known as CANDLE, and found them unresponsive to interleukin 1 therapy, but she found a strong interferon signature. Positing that the inflammatory disease manifestations in these patients were driven by interferon, she wondered whether JAK inhibitors (which block interferon signaling, as well as inflammatory cytokines related to RA) might work. A compassionate use study for a small subset of patients showed that, indeed, the treatment was a viable option. The study has now been expanded to include another genetic disease, SAVI, tied to constitutive interferon-beta upregulation.
"This is translation at work," Dr. Goldbach-Mansky says.
Training the Next Leaders
Traditionally, NIAMS (and its earlier iterations) has "been a major source of senior researchers in the country, through its fellowship and training programs," notes Dr. Plotz. "The success of NIH has, in part, been due to people who left and became leaders across the country." Freedom to pursue areas of interest without the burden of securing grant funding has been "a tremendous benefit," he says. "The theory is, you hire the very smartest and best people you can and then leave them alone."

Dr. Katz
Currently, the Rheumatology Fellowship Program accepts three new fellows each year, who participate in a three-year program, according to James D. Katz, MD, rheumatology fellowship program director. "The opportunity to marry teaching and research with clinical care is unparalleled anywhere else," says Dr. Katz, who joined NIAMS in August 2013. "We want our trainees to graduate with the capability of becoming independent investigators running their own programs, and also be able to seamlessly integrate into an academic program if they choose. The advantage at NIAMS is that trainees are not burdened with billing and coding, and can devote themselves to a culture of discovery."
At least 50% of fellows who train at NIAMS move into academia or to higher level positions that require physician–scientists, such as the FDA or pharmaceutical companies, Dr. Katz says. (Some accomplished alumni of the NIAMS training programs are highlighted at http://www.rheumatology.nih.gov.)
Those efforts have been expanded during the past seven to eight years with the addition of advanced postdoctoral training in the Scholars in Translational Research Program.
From Scholar Road to Tenure Track
As with many other rheumatology and immunology training programs, the Intramural Research Program (IRP) at NIAMS grows its strength not only by training physician–scientists, but also by retaining talent as part of the faculty. Dr. Goldbach-Mansky trained at NIAMS, initially in adult rheumatology and then in pediatric rheumatology; Dr. Kastner also came to NIH as a NIAMS rheumatology fellow, and Drs. Siegel and O'Shea trained in other NIH labs as post­doctoral fellows.

Dr. Ombrello
The journey to NIAMS for Michael Ombrello, MD, an assistant clinical investigator in NIAMS and head, Translational Genetics and Genomics Unit, began when he encountered several children with unexplained recurrent episodes of fever during his Med/Peds residency at Saint Louis University. Learning that Dr. Kastner and his group at NIAMS had begun to identify the molecular bases of similar phenotypes, Dr. Ombrello contacted Dr. Kastner to learn more about autoinflammation.
When Dr. Ombrello was recruited as the inaugural Henry Metzger Scholar in Translational Medicine in 2009, his appointment included intellectual, as well as financial, support for the first genome-wide association study of systemic juvenile idiopathic arthritis (sJIA), an international collaborative study that includes nearly 1,000 affected children.
"As I approached the end of the Scholar road, I was very eager to take leadership of my own research group," Dr. Ombrello recalls.

Dr. Siegel
NIAMS adopted the NIH Assistant Clinical Investigator (ACI) track for scientists whose abilities and focus in research make them candidates for tenure-track positions (for which they may compete), and Dr. Ombrello became NIAMS' first ACI.
Between training the next generation of physician scientists, characterizing new diseases and testing new treatments, the work at NIAMS continues at a "dizzying pace," says Dr. Siegel.
Whenever Dr. O'Shea interviews potential trainees, he tells them: "If your goal is to learn the textbook of rheumatology, you can do so and be a good rheumatologist in many places. If what you want to do is write the textbook of rheumatology for the future, then this is the place for you!"
---
Gretchen Henkel is a medical journalist based in California.