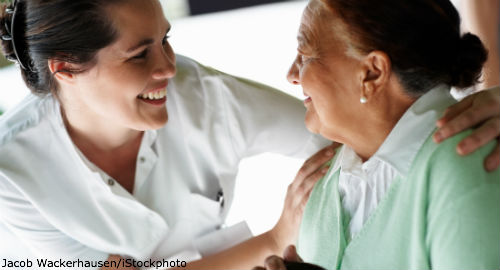 With their ability to provide treatment and manage chronic illnesses,
nurse practitioners
can aid patients with rheumatic diseases through their education and training. Nurse practitioners are registered nurses with additional education and training at the Master's or doctorate level who can collaborate with rheumatologists to the benefit of a patient's health.
Rheumatology practices that employ advanced practice providers, such as nurse practitioners, have the ability to care for more patients. As a nurse practitioner at Gundersen Health System in Onalaska, Wis., Janet Bahr, MSN, APNP, RN-BC, performs many of the same tasks as rheumatologists. She collects patient histories, performs examinations and diagnoses, and designs care plans and discusses those plans with patients.
You Might Also Like
Also By This Author
"I can ensure the timely care of patients," Ms. Bahr says. "I can help fill the gaps when there are patients waiting for appointments and not enough rheumatologists to see them in a timely manner. This can help relieve the workload."
ADVERTISEMENT
SCROLL TO CONTINUE
While a rheumatologist sees new patients, Ms. Bahr sees patients for routine follow up. She also sees patients who are referred for osteoarthritis or fibromyalgia independently. "This frees up rheumatologists to see other patients," she says.
However, if a patient has complex medical issues, a rheumatologist may still need to see them or advise on their case. These patients may alternate between the nurse practitioner and rheumatologist during their appointments. "Patients usually value [when] they have us both involved in their care," Ms. Bahr says.
ADVERTISEMENT
SCROLL TO CONTINUE
Patients seen by Linda Rodamaker, RN, MSN, ANP, an adult nurse practitioner at the University of Colorado in Aurora, Colo., typically alternate between seeing her with seeing with a rheumatologist. When she sees patients, multiple rheumatologists are available for her to consult with and to see patients as needed.
"Many rheumatology patients have chronic illnesses and need lifelong care," Ms. Rodamaker says. "Nurse practitioners are well versed in caring for many patient needs. Not only can they provide medical care, but they can offer care for other aspects of life, such as social, psychological and emotional support."
Ms. Bahr excels in helping patients with chronic diseases, such as rheumatoid arthritis, manage their disease by developing a rapport with them. She gets to know patients well and establishes strong relationships with them. She also directs patients to community resources.
ADVERTISEMENT
SCROLL TO CONTINUE
Training
The educational curriculum for nurse practitioners includes courses in advanced health assessment, physiology, advanced pathophysiology, pharmacology, advanced therapeutics and specialty preparation, as well as research methodology and use.1
When working at a rheumatology practice for the first time, a nurse practitioner will require several months of training in how to care for rheumatology patients. The ACR has online tools for learning the ropes of rheumatology, says Ms. Rodamaker, who specifically recommends the Rheum2learn and Advanced Rheumatology Course.
"I have been fortunate to work with rheumatologists who have taught me how to do procedures that are usually done in a clinic," she says.
Ms. Rodamaker can perform most of the tasks that a rheumatologist does, including writing prescriptions for most medications and other types of treatments, such as occupational and physical therapy and diagnostics, such as imaging and laboratory testing. However, she doesn't see hospitalized patients. Although she doesn't currently perform ultrasounds for guided joint injections and diagnostic assessment, if trained, she would be able to perform these tasks.
Teaching roles: Ms. Rodamaker works in a teaching setting with both attending physicians and fellows. If a fellow's schedule doesn't allow sufficient time to see patients as frequently as needed, she can see those patients. Then as a team, they address the patient's needs. She also has nurse practitioner students accompany her in clinic rotations.
Ms. Bahr says nurse practitioners can excel at teaching, educating a patient about their disease or medication. They can also lead group educational sessions and motivate patients to attend support groups.
Working with Rheumatologists
When working with rheumatologists, Ms. Bahr says it's important to have clear expectations for the role. And rheumatologists must be willing to provide guidance as needed. "Valuing each other's role is important when working in a collaborative relationship," she says.
Ms. Bahr's practice has a provider meeting once a week. "This [meeting] is helpful because everyone can present difficult cases and have others review them and provide advice," she says.
Providers also meet weekly and discuss recent clinical studies and educational articles in the rheumatology field. "This [meeting] helps ensure everyone is practicing with the most current [approaches]. It has helped raise awareness of many different problems that can occur among different disease states."
---
Karen Appold is a medical writer in Pennsylvania.
Reference
American College of Rheumatology. Role of the nurse practitioner in the management of rheumatic disease. 2018.