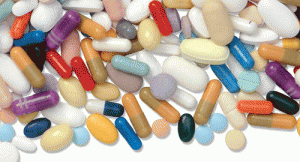 AXS-02 in a Phase 3 Clinical Trial for Knee OA
AXS-02 (disodium zoledronate tetrahydrate) is an osteoclast inhibitor currently in a Phase 3 clinical trial as a targeted, non-opioid oral therapy for managing chronic pain.1 Known as COAST-1 (Clinical Knee Osteoarthritis Symptom Treatment 1), the study is evaluating the safety and efficacy of disodium zoledronate tetrahydrate on pain in patients with knee osteoarthritis (OA).
Disodium zoledronate tetrahydrate has a high affinity for bone mineral and reduces osteoclast activity by inhibiting the farnesyl pyrophosphate synthase (FPPS) enzyme. The therapy is being developed to treat complex regional pain syndrome (CRPS) and knee OA pain associated with bone marrow lesions. It is also being investigated to treat chronic lower back pain.
ADVERTISEMENT
SCROLL TO CONTINUE
Ixekizumab Receives FDA Approval for Plaque Psoriasis
Ixekizumab (Taltz) binds to interleukin (IL)-17A, suppressing inflammation. Ixekizumab is a humanized immunoglobulin G subclass 4 (IgG4) monoclonal antibody (mAb) with neutralizing activity against IL-17A. It has been approved by the U.S. Food and Drug Administration (FDA) to treat adults with moderate to severe plaque psoriasis who are candidates for systemic therapy or phototherapy.2 The treatment is available as an auto-injector and as a prefilled syringe.
Ixekizumab is administered subcutaneously at a dose of 160 mg or two 80 mg injections at Week 0, followed by 80 mg injections at Weeks 2, 4, 6, 8, 10 and 12. Patients then receive 80 mg Ixekizumab every four weeks.3 In clinical trials, the most common adverse reactions were injection site reactions, upper respiratory tract infections, nausea and tinea infections.
ADVERTISEMENT
SCROLL TO CONTINUE
Belimumab May Reduce Steroid Use in SLE
In pooled data from two large randomized controlled clinical trials, belimumab, the B-lymphocyte stimulator (BLyS)-specific inhibitor, had a moderate association with a greater likelihood of steroid dose reduction over 52 weeks in patients with systemic lupus erythematosus (SLE).4
Compared with placebo-treated patients, dose reduction occurred in 39% of belimumab-treated patients compared to 31% of placebo-treated recipients. Dose augmentation occurred in 18% vs. 31% of belimumab- and placebo-treated patients, respectively. Steroid dose increase occurred in 23% of belimumab-treated patients vs. 35% of placebo-treated patients. The steroid doses decreased in more belimumab-treated patients (37%) than placebo-treated patients (30%).
---
Michele B. Kaufman, PharmD, CGP, RPh, is a freelance medical writer based in New York City and a pharmacist at New York Presbyterian Lower Manhattan Hospital.
ADVERTISEMENT
SCROLL TO CONTINUE