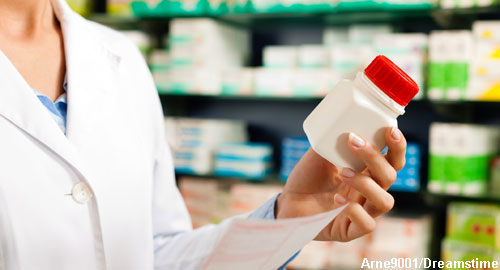 A large rheumatology practice is reaping many benefits from having a pharmacy presence onsite. After learning that a nearby endocrinology practice had a successful arrangement with a local pharmacy school to provide pharmacy services, Lee Shapiro, MD, a rheumatologist at The Center for Rheumatology (TCFR), based in Albany, N.Y., became eager to partner with the school in 2005.
You Might Also Like
Also By This Author
The arrangement works by having Jessica Farrell, PharmD, a clinical pharmacist and associate professor of pharmacy practice at Albany College of Pharmacy and Health Sciences (ACPHS), provide clinical pharmacy services at TCFR. In exchange, TCFR serves as an experiential education practice site for pharmacy students in their final year of school. Dr. Farrell, who joined the practice in 2008, precepts two to three students who work within the practice on six-week rotations. She splits her time between TCFR and ACPHS.
ADVERTISEMENT
SCROLL TO CONTINUE
A key benefit Dr. Farrell and her students provide to the practice, according to Dr. Shapiro, is enhanced patient education.
"During office visits, physicians have minimal time to provide a lot of information regarding a medication, other than dosing instructions," Dr. Shapiro says. "Most patient education on medication occurs at a community pharmacy, but that is not always the case for specialty medications, such as Humira [adalimumab] and Enbrel [etanercept], which are often mailed directly to a patient's home."
ADVERTISEMENT
SCROLL TO CONTINUE
Because Dr. Farrell and her students have access to TCFR's electronic health records system, they can review a patient's diagnosis, laboratory results and other patient details, such as comorbidities, allowing them to provide tailored and individualized medication recommendations for each patient.
Additionally, the pharmacy team has more time to discuss side effects, the best time of the day to take a medication and so forth. "Patients leave feeling better informed and less anxious about taking a medication, which increases compliance," says Dr. Shapiro, who adds that he believes a pharmacist may have better knowledge than a rheumatologist regarding drug interactions and timing of the dosing to maximize absorption and minimize interactions.
Another benefit stems from the fact that many rheumatic diseases have few or no FDA-approved medications, resulting in rheumatologists often prescribing medications off-label, including biologics. "It's very laborious for a rheumatologist to review the literature, gather the evidence and make a case to convince an insurance company's medical director to approve an off-label use," Dr. Shapiro says.
ADVERTISEMENT
SCROLL TO CONTINUE
Consequently, Dr. Farrell has created a letter library for certain rheumatic conditions that can benefit from the off-label use of a specific medication. "Then, the rheumatologist simply has to personalize the letter with an opening statement explaining the patient's circumstances, what treatments they have tried and why there is a need for additional therapy," Dr. Shapiro says.
As a result of these efforts, Dr. Shapiro says the approval process for an off-label drug usage request is expedited. In fact, the letters have been so effective that Dr. Farrell contracted with the ACR to provide template letters members can download and tailor to their needs. Current available letters include adalimumab (Humira) for sarcoidosis and rituximab (Rituxan) for myositis.
Added Care & Benefits
Because she works with all of the practice's providers and sees a larger number of patients, Dr. Farrell has developed expertise in medication management in special populations, such as patients with rheumatoid arthritis (RA) who are pregnant or breastfeeding. "By staying up to date on the latest research, I can counsel these patients on the risks vs. the benefits and help them make evidence-based decisions regarding medications," she says.
The pharmacy team also reports adverse reactions to the U.S. Food and Drug Administration's MedWatch program, which is time consuming for physicians. This change has increased the practice's efficiency in reporting these events. Dr. Farrell also provides regular pharmacy updates tailored to the practice's needs, which serves as a quick reference for busy clinicians and staff.
Dr. Shapiro feels very fortunate to have partnered with the pharmacy school, because the practice doesn't have to pay for the pharmacy services. He would advise other rheumatology practices to pursue such an arrangement. "The larger your practice, the greater the argument you have for adding a pharmacist," he says. "If you have a pharmacy school in your city, I suggest working to establish an affiliation."
If a school isn't nearby and hiring a full-time pharmacist isn't feasible, Dr. Farrell recommends considering a part-time pharmacist. By simply assisting with insurance authorization, she believes a pharmacist can potentially free up a rheumatologist's time to see more patients or spend more time with complex patients and provide better overall care. This increased efficiency may result in increased revenue because the practice will have time to see more patients—offsetting the pharmacist's cost. In addition, Dr. Farrell uses incident-to physician billing for medication counseling visits, which generates revenue.
Although Dr. Farrell didn't have rheumatology expertise when she first started at the practice, she acquired it by working with providers and staying abreast of current medication trends in rheumatology. Now, she even speaks regularly—both locally and nationally—on medication management in rheumatic diseases.
---
Karen Appold is a medical writer in Pennsylvania.