The year is drawing to a close, and I have not been forced to release a statement that I am leaving The Rheumatologist "to spend more time with my family." Once again, improbably, I have made it to the finish line. Given that, now seems to be a good time to reflect, and to give thanks.
You Might Also Like
Explore This Issue
December 2019
Also By This Author
I have previously thanked Paul Monach, MD, PhD, for having served ably in the role of associate editor for The Rheumatologist, but I wish to thank him again, this time above the fold. Paul was instrumental in keeping the ship from capsizing when I took the helm two years ago, and I am certain that you will continue to feel his influence through these pages. I am less certain—but hopeful!—that his work will continue to appear on these pages, but on a schedule dictated by him, not by us.
ADVERTISEMENT
SCROLL TO CONTINUE
I am equally thankful that Ethan Craig, MD, MHS, has stepped so ably into Paul's old position. I am also grateful that Vicky Ruffing, RN-BC, has elected to stay on as associate editor. Paul commented to me that when I appointed associate editors, I failed to specify an end date. That failure was by design; I am—again—more hopeful than certain, that the next few years will fly by, and Ethan, Vicky and I will be able to walk out the door hand in hand.
We will do this knowing that we leave The Rheumatologist in supremely capable hands, led by Keri Losavio, who I feel obligated to point out is the actual editor of The Rheumatologist. If I dropped off the face of the planet, the next edition of The Rheumatologist would still appear to clog your mailbox, roughly on schedule. The converse would not be true. Keri is responsible for ensuring that, once a month, you have something to read on flights and in the bathroom, and ensures the details are addressed appropriately, even when my own attention wanes.
ADVERTISEMENT
SCROLL TO CONTINUE
Over the past year, that attention to detail has become even more important. Regular columns from the Committee on Ethics and the Fellows-in-Training Subcommittee have been joined by a regular feature on musculoskeletal ultrasound, reflecting the increasing importance of this modality to our field. Next year, this will be joined by a regular column from the Pediatric Rheumatology Committee to ensure we are addressing the needs of more of our readers.
None of this would exist without your involvement. Our pages depend on ACR members who are willing to take time out of their busy days to write case reports, review articles & other forms of reflection.
I am also proud of our other new columns. Rheumatology Lost and Found features a discussion of classic articles, including what makes them classic and why they are relevant today. The Master Clinician series features discussions with senior rheumatologists, the lessons they have learned and the lessons they want to pass along. Both series have gotten off to stuttering starts, but I look forward to watching each develop and grow.
ADVERTISEMENT
SCROLL TO CONTINUE
I feel obligated to point out the obvious: None of this would exist without your involvement. Our pages depend on ACR members who are willing to take time out of their busy days to write case reports, review articles and other forms of reflection, and we are all grateful for the authors' generous donation of their time and expertise.
In the same way, the ACR as we know it would not exist if it were not for the active participation of its members, who populate its committees, subcommittees, and task forces. As a former member of the Committee on Training and Workforce, the Annual Meeting Planning Committee and the In-Training Examination Taskforce—and a current member of the Abstract Selection Subcommittee and the development team for the ACR/Vasculitis Foundation vasculitis guidelines—I want to assure you that the ACR wants to hear your voice, as well. That said, the ACR can't respond to your voice if you don't speak up. There are numerous opportunities for you to become more active in the College, and I hope the next time the call for volunteers comes around, you will consider raising your hand when nominations open in March.
On Being Medical Editor
Some of you have asked me what it is like to be the medical editor of The Rheumatologist. My standard answer is, at least now, I know what Sisyphus felt like.
For those of you who slept through your high school lecture on Greek mythology, Sisyphus was the King of Corinth, who managed to cheat death one too many times. As punishment, Zeus, the king of the gods, decreed that Sisyphus would spend existence rolling an enormous boulder up a hill. Just as he reached the top, the boulder would roll back to the bottom of the hill, and Sisyphus would start again, doomed to never complete his task.1
That is, at a first approximation, what it is like to be the medical editor of The Rheumatologist.
There is a constant stream of work, which has its own ebb and flow. But once a month, the work crests, and there is a flood of articles to be reviewed in a very short period of time. And, of course, I then have to write my column.
I have a monthly appointment on my calendar that says simply, Write Column. And although I know Newtonian physics would not allow this, I swear the amount of time that passes between those appointments has begun to decrease.
One of the hardest things about writing a monthly column, honestly, is learning to let go. For days or weeks after a column has been finalized, I find myself subconsciously collecting snippets of information that would have been perfect for making my case.
For example, in the week after we had published my column on the Sackler family and their efforts to disconnect their public philanthropy from their private complicity with the opiate crisis in the U.S., the Metropolitan Museum of Art and the Guggenheim both announced they would no longer accept donations from the Sacklers.2,3 Since then, Purdue Pharma has started negotiations for a global settlement, which would include a $3 billion payout from the Sackler family.4 That seems like a lot of money—until you realize the Sackler family will still be worth $10 billion, money that largely came from the sale of Oxycontin.5 But it's not nothing.
In July, I wrote about the #manel phenom­enon and the unconscious bias that causes men to dominate at conferences. Two weeks later, the Lancet Group announced it would use its influence to actively oppose all-male panels at all levels:
Our new No All-Male Panel Policy acknowledges the traditional predominance of male speakers, which excludes the full breadth of available expertise and opinion. The policy states that Lancet Group editors will not serve as panelists at a public conference or event when there are no women on the panel ("manels"), and it commits us to gender balance in events we sponsor or organize. … As editors and journals we are just one part of an ecosystem that includes academic institutions and research funders where unacceptable gender bias is well documented, and of a broader society that disadvantages certain groups to create an uneven and unfair playing field. But we are committed to be the change we want to see, and to play our part in helping to ensure diversity and inclusion in health research and publishing.6
Several times this year, I have found myself writing about healthcare economics. I am sure this is because I have been fascinated by nascent presidential politics, which always seem to feature a discussion of healthcare and how to pay for it.
As I have researched these issues, I have become flummoxed by how inane the American system of healthcare truly is. It actually reminds me, more than anything, of my old, beloved Ford Taurus, which I kept going for years longer than was wise by patching parts as they fell apart. We can presumably keep the healthcare system going with duct tape and spit, but I think we will inevitably have to junk it and start over again.
As anecdotal proof, I want to draw your attention to a news item you may have missed: On Aug. 7, 2019, Brian S. Jones, a 77-year-old man from Ferndale, Wash., called 9-1-1 to let someone know that he was going to kill his wife and then himself because he could no longer afford to pay for their medical care. Over the 9-1-1 operator's pleading to stay on the phone, he calmly informed her that he had left a list of instructions, and the police would find their bodies in the front room.7
He then hung up, shot his wife in the head and shot himself three times. The phone call was an act of courtesy; he did not want their deaths to be too much of an inconvenience for others. He acted with the calmness of a man beyond desperation, who had nothing left to lose. Mr. Jones reminds us that we are wrong to think of the healthcare debate as a discussion of dollars and cents. We are, quite literally, debating the value we place on a human life. Attention must be paid.8
Gratitude
I want to mention that writing my column has brought me closer to all of you. I am always interested to see how different columns seem to resonate with different groups of readers, and I am grateful that each column eventually finds its audience, even if that audience is only a portion of the total readership.
I am particularly grateful to those of you who contacted me after I published my essay on the unexpected passing of my mentee and friend, Nadia D. Morgan, MD, MHS, who was killed in a hit-and-run accident in Baltimore County late last year. I was truly touched by the number of you who had reached out to tell me how my essay mirrored your own experiences with grief, and generously shared with me your own experiences with loss.
At the time I wrote that essay, I could still hear Nadia's clarion voice in my right ear, providing a constant commentary on my life. I don't hear her voice as often anymore. And when I do, it has a distant quality, as if she were speaking to me from far away or through a door that is starting to close. I find myself grieving for the loss of that voice. The quality of that grief is different, however; it is less painful, more bittersweet. And when that grief is gone, I will grieve for that loss, as well.
As I write this, I can hear her voice once again, telling me to move on before I lose my audience to my maudlin musings. And so I shall.
---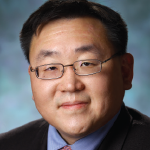 Philip Seo, MD, MHS, is an associate professor of medicine at the Johns Hopkins University School of Medicine, Baltimore. He is director of both the Johns Hopkins Vasculitis Center and the Johns Hopkins Rheumatology Fellowship Program.
References