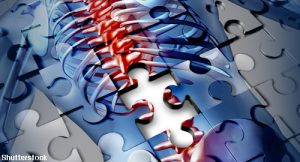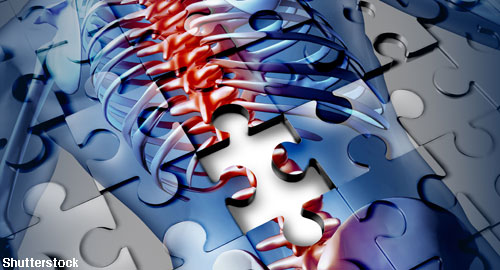 Although studies indicate peripheral arthritis is common in patients with axial spondyloarthritis (axSpA), the field of rheumatology lacks a natural history of peripheral arthritis in axSpA patients. In a recent study, investigators reported 36% of patients with recent onset axSpA experienced peripheral arthritis at the time of disease. Clementina Lopez-Medina, MD, PhD, a postdoctoral fellow at Cochin Hospital, Paris, and colleagues found peripheral arthritis was associated with negative HLAB27, non-smoking and the presence of other peripheral disease manifestations. Their report, published June 6 in Arthritis Research & Therapy, also notes patients with arthritis had a higher burden of disease.1
You Might Also Like
Also By This Author
The researchers analyzed five years of follow-up data for 708 patients in the DEvenir des Spondylarthropathies Indifferenciees Recented (DESIR) cohort. They calculated an incidence of peripheral arthritis of 3.7 cases per 100 person-years. Approximately one-third of patients in the cohort had at least one episode of arthritis, 21.3% had arthritis before the inclusion visit and 18.7% had an incident first episode of arthritis during the follow up. Because the study did not include physical examinations before the first study visit and between the two study visits, the investigators note it was difficult to precisely evaluate arthritis.
ADVERTISEMENT
SCROLL TO CONTINUE
Patients who had at least one episode of dactylitis and enthesitis were more likely to develop peripheral arthritis than those who had not. Of the patients who suffered from arthritis at any time, 20.4% experienced the first episode of arthritis before axial symptoms, 13.7% concomitantly and 65.9% after axial involvement. Although peripheral arthritis was independently associated with older age (33 years and older, which is the median age of the DESIR population), the investigators found it could appear at any time during the disease.
"We found the development of this clinical feature was more common among older patients, confirming the greater prevalence of peripheral arthritis over time," write the authors in their discussion. "Interestingly, we did not find an independent association with either [inflammatory bowel disease] or psoriasis. The high prevalence of peripheral arthritis in [psoriatic arthritis] is well known. However, here we observed that, in axSpA, this association may not be as evident."
ADVERTISEMENT
SCROLL TO CONTINUE
The investigators note patients with arthritis had a greater use of tumor necrosis factor beta (TNFb), conventional synthetic disease-modifying antirheumatic drugs (csDMARDs), oral corticosteroids, intramuscular corticosteroids and intraarticular injection of corticosteroids. These patients also had worse symptoms as measured by the Bath Ankylosing Spondylitis Disease Activity Index (BASDAI) and worse quality of life.
"Indeed, here, we demonstrated that patients who have ever suffered from peripheral arthritis at any time during the five years of follow-up period showed poorer quality of life and increased days of sick leave over time," write the authors. "Despite the evaluation of the clinical relevance of these results as more difficult, the fact that 36.9% of patients without arthritis and 50.2% with arthritis showed an active disease (BASDAI >40) demonstrates the importance of this feature."
Additionally, patients with arthritis had higher mean levels of Bath Ankylosing Spondylitis Functional Index and lower Short Form Survey (SF-36) scores, which suggested the patients with arthritis were in worse condition.
ADVERTISEMENT
SCROLL TO CONTINUE