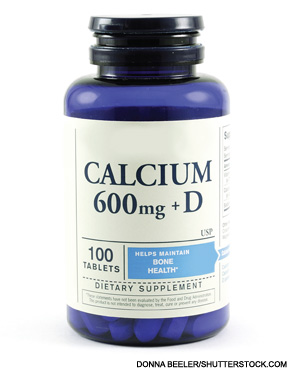 Denosumab had only rare reports of hypo­calcemia noted in the FREEDOM trial.4 During the study, only four patients treated with denosumab and five patients in the placebo group had calcium levels less than 8.0 mg/dL. None of these patients were symptomatic. However, another study of 55 patients with various degrees of renal impairment identified 12 patients with hypocalcemia, two of whom required hospitalization.3 It was pointed out that most of these patients were not receiving adequate vitamin D/calcium supplementation.3 All patients with hypocalcemia had some degree of CKD, with more cases of hypocalcemia in patients with severe CKD (three patients) or renal failure (five patients). One additional case of severe symptomatic hypocalcemia in a patient with CKD has been reported.5 Hypocalcemia was reported more frequently in a trial of cancer patients receiving this drug (10.8%) compared with zolendronic acid (5.8%).6
ADVERTISEMENT
SCROLL TO CONTINUE
The denosumab label does emphasize a greater risk of hypocalcemia in patients with a creatinine clearance of less than 30 mL/min. It also states that preexisting hypocalcemia must be corrected before denosumab administration and recommends calcium, phosphorus and magnesium level monitoring, as well as adequate intake of calcium and vitamin D. However, no clear recommendations regarding monitoring frequency are made.
As demonstrated by our case, aggressive treatment with calcium and vitamin D may be needed.
Although rare, clinically symptomatic hypo­calcemia can occur following denosumab injection in patients with decreased renal function. Due to denosumab pharmacokinetics, hypocalcemia may persist for up to six months. As demonstrated by our case, aggressive treatment with calcium and vitamin D may be needed, along with frequent monitoring. We suggest caution when using denosumab in patients with severe renal impairment (GFR <30 mL/min). The serum calcium should be checked routinely 10 days after the injection with adjustments in treatment and monitoring based upon that result.
---
Lyudmila Kirillova, MD, is originally from Russia, where she earned her medical degree from Ryazan State Medical University. She completed her internal medicine residency at St. Luke's University Hospital, Bethlehem, Pa., and she sub­sequently worked as a hospitalist at Geisinger Medical Center, Danville, Pa., where she is currently a second-year rheumatology fellow.
William Ayoub, MD, is originally from Greensburg, Pa. He graduated from Temple University School of Medicine. He completed his training in Internal Medicine at the Geisinger Medical Center in Danville, Pa. He completed his fellowship in rheumatology at Geisinger in 1983. Dr. Ayoub has practiced clinical rheumatology with the Geisinger Medical Groups in Lewistown and State College since 1983. He serves as the director of rheumatology with the Geisinger Group in State College. He has chaired the Bone Mineral Density Committee and presently chairs the Rheumatology Best Practice Committee within the Geisinger Health System.
References