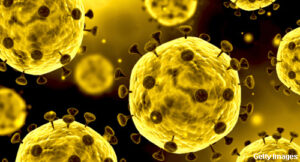 NEW ORLEANS—The COVID-19 pandemic brought to light the interplay of the SARS-CoV-2 virus and the immune systems of infected patients. Acute autoimmune manifestations of COVID-19, such as multisystem inflammatory syndrome in children (MIS-C) and myocarditis, clearly exist. A session at the 2023 Pediatric Rheumatology Symposium, Autoantibodies in COVID-19 explored this topic in detail, including a thorough review of the relevant literature.
COVID-19: A Review
Paul J. Utz, MD, professor of medicine, Division of Immunology and Rheumatology, Stanford University School of Medicine, Stanford, Calif., began his lecture with a discussion of research findings presented at a plenary session at ACR Convergence 2020.
In a 2020 study published in Science Translational Medicine, Zuo et al. measured eight types of antiphospholipid antibodies in the serum of patients hospitalized with COVID-19. They found that more than half of these patients tested positive for at least one such antibody. Higher titers of these antibodies were associated with the release of neutrophil extracellular traps (NETs), higher platelet count, severe respiratory disease and lower glomerular filtration rate. Additionally, purified IgG from the sera of patients with COVID-19 induced an accelerated venous thrombosis in two different mouse models.1 Taken together, these findings may explain why the prothrombotic phenotype of many patients with severe COVID-19 looks similar to that seen in patients with lupus and/or antiphospholipid syndrome. 
Next, Dr. Utz discussed the research of Magro et al., which sought to analyze skin biopsy specimens to understand the main pathogenic principles of COVID-19.2 The authors identified three potential pathways for cutaneous COVID-19:
Complement-mediated thrombotic vascular injury syndrome that deploys the alternative and mannan-binding lectin pathways;
Robust T cell- and type I interferon-driven inflammation; and
Immune complex-mediated, vasculitic cutaneous reactions driven by the humoral immune system.
Among these forms of cutaneous reactions in COVID-19 is the process of interferon-driven COVID-19 perniosis, colloquially called COVID toes. Magro et al. noted that, as the most superficial organ, the skin has been and continues to be a readily accessible and helpful resource for understanding the acute, subacute and chronic effects of COVID-19 on the body.
Autoantibodies
Returning to his main topic, Dr. Utz noted that autoantibody production appears to be a common feature of COVID-19.
A large study from 2021 analyzed the nature of the autoantibodies seen in infected patients. Chang et al. developed three protein arrays to evaluate IgG autoantibodies typically seen in connective tissue diseases, anti-cytokine antibodies and anti-viral antibody responses in patients hospitalized with COVID-19.3 These researchers found a positive anti-nuclear antibody (ANA) is common, occurring in approximately 25% of patients, and that this ANA is typically low titer and can show various patterns, including rarer patterns, such as nucleolar. Autoantigens that are common in such conditions as lupus and Sjögren's disease, including anti-Smith, anti-Ro, anti-La and anti-dsDNA antibodies, are not as prominent. Finally, antibodies to MPO and PR3, which are often seen in anti-neutrophil cytoplasmic antibody (ANCA) associated vasculitis, were not found in the 147 patients evaluated.