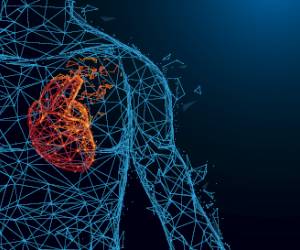 Increased cardiovascular (CV) risk in patients with rheumatic disease is old news. Over the past decade, a multitude of studies have demonstrated elevated CV risk in a variety of conditions: systemic lupus erythematosus, rheumatoid arthritis and psoriatic arthritis (PsA), to name a few. The risk in patients with rheumatic disease seems to be linked to unbridled systemic inflammation and accelerated atherosclerosis. The trouble is, now that we know about it, what is our responsibility as rheumatologists? Cardiology is its own specialty for a reason, isn't it?
Also By This Author
This article focuses on the elevated CV risk in PsA and discusses practical ways in which we can practice rheumatology, but also protect our patients from preventable CV harm.
ADVERTISEMENT
SCROLL TO CONTINUE
The Evidence
Inflammatory arthritis is associated with an increased risk of CV disease. Many studies have described an increased risk of CV events associated with gout and rheumatoid arthritis, but the risk with psoriatic arthritis was not as well reported until recently.
In the early 2000s, researchers identified psoriasis as an independent risk factor for myocardial infarction even after adjusting for other CV risk factors (e.g., age, sex, tobacco use).1 It is now clear that PsA patients are at increased risk of CV disease as well.
ADVERTISEMENT
SCROLL TO CONTINUE
A 2017 systematic review and meta-analysis of observational studies in patients with PsA showed a 43% increased risk of having or developing CV disease, and a 55% increased risk of incident CV events in patients with PsA compared with the general population.2 The increased CV risk was observed across a variety of types of CV events: myocardial infarction, cerebrovascular diseases and heart failure.
Does Treating to Target Lower CV Risk?
As rheumatologists, we hope treating to target will have protective CV effects in patients with PsA, but confirmatory data are not yet available. It is scientifically sound to theorize that controlling systemic inflammation will have protective CV benefits, and this is an area of active research in both cardiology and rheumatology communities.
I recall being excited and stunned by the 2017 New England Journal of Medicine trial investigating the use of canakinumab, an anti-interleukin (IL) 1β antagonist, in decreasing CV risk in patients with atherosclerotic disease.3 Over 10,000 patients with previous myocardial infarction and an elevated high-sensitivity C-reactive protein level were administered canakinumab every three months, with the primary efficacy end point being nonfatal myocardial infarction, nonfatal stroke or CV death.