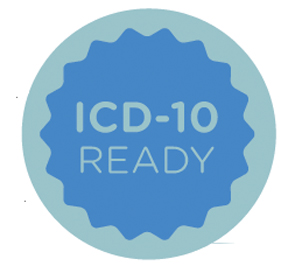 The transition to ICD-10 is not just another yearly diagnosis codes update; it is a complete overhaul. This not only will affect providers, but also all payers, vendors and stakeholders are being affected by the expanded ICD-10 code sets through medical coding operations, software systems, reporting, administration, registration and more.
With approximately 20 days before implementation on Oct. 1, providers and their staff have only a few weeks to prepare the practice for transition to the new diagnosis code set. Although the goal is for the transition to be free of any issues or complications, it is understandable that with such a major overhaul of the coding system there may be issues or situations that are unavoidable. Understanding the payer rules concerning ICD-10 is a key factor to being successful in the implementation.
ADVERTISEMENT
SCROLL TO CONTINUE
While coding to the highest level of specificity is always the goal of correct coding, the Centers for Medicare & Medicaid Services announced a 12-month grace period for Medicare review contractors to not deny any physician or practitioner claims billed under the Part B physician fee schedule. However, providers are cautioned that they must use a valid ICD-10 code on all claims from the correct family or category starting on Oct. 1. Keep in mind that the CMS did indicate it is possible that claims can be pulled and reviewed for reasons other than ICD-10 coding specificity; if so, these claims will go through the normal review process. It is still necessary for services to meet the medical necessity criteria, as ICD-10 will not have any effect on the guidelines for E/M and other procedural coding through CPT.
At this time, the one-year reprieve for coding specificity is only applicable to billing and quality reporting for Medicare claims and does not apply to private payer claims; providers will need to follow their contracts or contact their provider relations representative for each third-party payer's coding and billing guidelines for ICD-10.
ADVERTISEMENT
SCROLL TO CONTINUE
Additionally, CMS stated that if a Part B Medicare contractor is unable to process any claims within the established time limit due to administrative problems or system issues, providers can apply for an advance payment. An advance payment is a conditional partial payment, which requires repayment, and may be issued when the conditions described in CMS regulations at 42 CFR Section 421.214 are met. Advance payments are conditional, as stated in the regulation and are based only on whether the carrier is unable to process claims in a timely manner and not applicable if a physician is unable to submit a valid claim. To apply for an advance payment, physicians must log onto their Medicare Administrative Contractor (MAC) site and make a formal request through their MAC.
Although CMS has established an ICD-10 ombudsman to help providers with any ICD-10 problems and concerns, the ACR practice management and coding staff will also have a triage and call center to help members with minor ICD-10 coding or errors. Staff have developed a stronger communication and collaboration platform that can help keep better track of any ICD-10 implementation issues and coding errors before, on and after Oct. 1.
For faster response to questions or concerns, members can send questions to [email protected] or contact the coding staff at 404-633-3777. In addition, visit the ACR website, often for all ICD-10 FAQs and coding updates on guidelines and conventions.
ADVERTISEMENT
SCROLL TO CONTINUE
In case issues occur, the coding staff will be monitoring and responding to:
Coding and billing questions;
Rejections and denials from CMS;
Rejections and denials from private payers;
Updating the rheumatology ICD-10 crosswalk;
Monitoring ICD-10 guideline changes or coding conventions, and
Other post-implementation issues.
The news that claims will not be denied due to minor ICD-10 errors has definitely alleviated some fears of many physicians across the country, since the Oct. 1 deadline seems inevitable. However, it is still necessary for the correct family of codes to be chosen from the ICD-10 code set in order to meet billing requirements. The ACR recommends providers continue fine tuning their operation plans to meet the deadline, train staff, and finalize any relevant testing on all systems and office processes. At this point, vendors should be able to demonstrate readiness of their EMR system with ICD-10 coding. No matter how prepared you may be in your practice, if vendors are not ready, this will affect your bottom line. Key actions should exhibit that their system(s) can accept ICD-10 codes and has the capability to process dual coding for both ICD-9 and ICD‑10. Continue to monitor their readiness up to the implementation deadline and also audit them through post-implementation to make sure your claims are processing correctly.
Improved communications with payers and vendors will be a vital part of the transition to the new code set. It is recommended to have a point person on staff to be a spokesperson in this capacity and to handle all pre- and post-ICD-10 issues that may arise in the practice. The goal is to send out correct claims the first time, and it is a good idea to have your ICD-10 staff review and scrub all claims before billing out—this will save a lot of time on the back end. Remember: documentation is the key to coding, and this guideline is necessary to use the correct family of codes in ICD‑10. It is a good time to take these last couple of weeks to review all documentation guidelines required for the rheumatology ICD‑10 family of codes.
Here are six easy steps to help with ICD-10 readiness:
Download the top 40 rheumatology codes as a quick reference guide from the ACR website.
Create a cheat sheet with key coding guidelines for laterality and anatomical site (i.e., "1" is for the right side and "2" is for the left side).
Make a list of key vendors and payers with contact information for easier access to communicate quickly on issues.
Continue to monitor documentation requirements, because this is vital to your bottom line.
Monitor accounts receivable, and track adjustment charges and collections pre- and post-ICD-10.
Stay calm!
The ACR is committed to being a resource for members and their staff during the transition to ICD-10. All questions should be sent to [email protected], or contact Melesia Tillman, CPC, CPC-I, CRHC, CHA, at 404-633-3777 x820 ([email protected]) or Antanya Chung, CPC, CPC-I, CRHC, CCP, at 404-633-3777 x818 ([email protected]).