I have become quite a different doctor than I had imagined I should ever be," reflects Tore K. Kvien, MD, PhD, professor of rheumatology at the University of Oslo, head of the department of rheumatology at Diakonhjemmet Hospital in Oslo, Norway, and past president of the European League Against Rheumatism (EULAR).
In a recent telephone interview, Dr. Kvien reveals he originally planned to become a family doctor. But even when he gravitated to rheumatology, his initial vision—to become a good clinician—has informed his leadership in his chosen specialty. Throughout his career, Dr. Kvien has devoted his scientific intelligence to advancing patient care. With nearly 300 scientific papers recorded in PubMed and leadership roles in major national and international rheumatology organizations, he has won renown for establishing his country's first longitudinal patient database, for conducting wide-ranging collaborative research, and for fostering productive international initiatives.
The First Road
Dr. Kvien knew that medicine was for him even during his teenage years, he recalls. Diligent work and support from his parents helped to make that dream come true. Shortly after obtaining his medical school certification, he says, "I wanted to have some hospital practice, because that was relevant to becoming a family doctor." He also knew that musculoskeletal diseases comprised the most frequent problems for which patients sought medical care, so he chose to train at Sørlandet Rheumatism Hospital from 1976 to 1978. During that time, his interest in the general practice of medicine morphed into a fascination with rheumatology. He subsequently spent four years at Oslo Sanitetsforening Rheumatism Hospital, the last 10 months of which were as head of the Pediatric Rheumatology Department.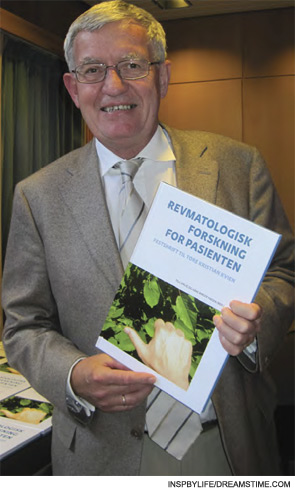 Dr. Kvien receiving a Festschrift (celebration book with articles). Above, photo of Oslo, Norway.
While there, Dr. Kvien was under the tutelage of pediatric rheumatologist Hans Martin Høyerall, MD, PhD, who gave him the opportunity to take responsibility for an industry-independent randomized controlled clinical trail program in juvenile arthritis. This work formed the cornerstone of Dr. Kvien's PhD thesis, "Drug management of patients with juvenile rheumatoid arthritis."
To become a rheumatology consultant required additional training, which he acquired in the departments of medicine, cardiology, nephrology, and neurology in various hospitals in Oslo during the following year. Dr. Kvien then accepted a position as a rheumatology consultant at Diakonhjemmet. His experience with a spectrum of clinical practice offered opportunities in his new position for collaboration between rheumatology and other disciplines, such as nephrology.