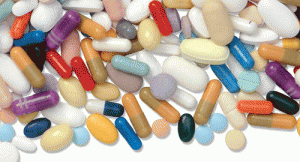 Barcitinib Promising in Phase 3 Trials
Baricitinib, a once-daily oral selective JAK1 and JAK2 inhibitor, has shown positive results in the Phase 3 RA-BEAM study.1,2 This is the fourth successful Phase 3 study of this agent for treating adults with moderate to severe active rheumatoid arthritis (RA). This study enrolled more than 1,300 adults with active RA despite use of methotrexate (MTX). The safety and efficacy of baricitinib was compared with placebo for 24 weeks or adalimumab for 52 weeks. Patients receiving MTX were randomized to receive either 4 mg barcitinib once daily, 40 mg subcutaneous adalimumab every other week or placebo.
Also by this Author
Baricitinib was proved superior to placebo in ACR20 response after 12 weeks of treatment. In addition, baricitinib-treated patients showed improvement in the secondary endpoint of DAS28-hsCRP disease activity score after 12 weeks of treatment compared with adalimumab-treated patients. Baricitinib was also superior to placebo in preventing progressive radiographic structural joint damage after 24 weeks of treatment. This result was maintained through 52 weeks of therapy. Serious adverse events were similar between baricitinib and placebo, but lower for adalimumab; and serious infection rates were comparable across all groups. Treatment-emergent side effects, including infections, were greater for active treatment groups compared with placebo-treated patients. Discontinuations due to adverse events were similar across all treatment groups.
Prior baricitinib Phase 3 studies included RA-BEACON,3 for patients who failed at least one tumor necrosis factor inhibitor and were taking stable doses of conventional disease-modifying anti-rheumatic drugs (DMARDs); RA-BUILD, for patients who had either failed or could not tolerate treatment with at least one conventional DMARD; and RA-BEGIN, which compared barcitinib with MTX monotherapy.4
FDA Orders Drug-Interaction Studies for Kayexelate