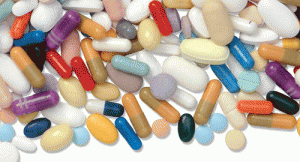 Researchers found that patients with rheumatoid arthritis (RA) on a non-biologic disease modifying anti-rheumatic drug (DMARD) have triple the risk of developing a serious infection vs. the general population. This should serve as a reminder to "better use the tools at our disposal," says one expert.
In work presented this summer at the European League Against Rheumatism Annual European Congress of Rheumatology, Swedish researchers reported that patients treated with a non-biologic DMARD had a 6.1% risk of developing a serious infection.1 A 2.2% risk was observed for the general population. The study was based on 12,128 patients participating in the Swedish National Patient Register and the National Prescription Drug Register.
In an email interview with The Rheumatologist, Jinoos Yazdany, MD, MPH, a rheumatologist at the University of California at San Francisco (UCSF), who has written about DMARD costs, says the Swedish results would likely be the same in the U.S.
"DMARDs are important for halting joint damage and improving quality of life in RA," she says. "I don't think this study should dissuade patients from starting or switching therapy. Instead, we need to better use the tools at our disposal to prevent infections. For example, all patients receiving immunosuppression should receive pneumococcal and influenza vaccination."
According to news coverage of the study, the Swedish research team, led by Elizabeth Arkema, ScD, also reported "that six of every 100 patients with RA who switched to a different [non-biologic] DMARD were hospitalized with an infection within one year of new treatment initiation, whereas the risk for a serious infection in the general population remained constant over time."1
Dr. Yazdany believes more research is needed to address why infection risks may increase for patients switching therapies.
"This may be the effect of a population of RA patients who has more active disease and perhaps more medical comorbidities, putting them at risk for infection," she says. "Alternatively, there may be an additive effect of different immunosuppressives that underlies this finding."
Richard Quinn is a freelance writer in New Jersey.
Reference
Pulawski S. Risk of serious infection with non-biologic DMARD use tripled in patients with RA. Healio Rheumatology. 2015 Jun 30.