GOUT
Singh JA, Jodges JS, Asch SM. Opportunities for improving medication use and monitoring in gout. Ann Rheum Dis. 2009; 68:1265-1270.
You Might Also Like
Explore This Issue
December 2009
Also By This Author
By Robyn T. Domsic, MD
ADVERTISEMENT
SCROLL TO CONTINUE
Abstract
Study design: Cross-sectional analysis.
Purpose: To study patterns and predictors of medication use and laboratory monitoring in gout.
ADVERTISEMENT
SCROLL TO CONTINUE
Methods: In a cohort of veterans with a diagnosis of gout prescribed allopurinol, colchicine, or probenecid, quality of care was assessed by examining adherence to the following evidence-based recommendations: 1) whether patients starting a new allopurinol prescription a) received continuous allopurinol, b) received colchicine prophylaxis, c) achieved the target uric acid level of ≤6 mg/dl; and 2) whether doses were adjusted for renal insufficiency. The association of sociodemographic characteristics, healthcare utilization, and comorbidity with the recommendations was examined by logistic/Poisson regression.
Results: Of the 643 patients with gout receiving a new allopurinol prescription, 297 (46%) received continuous allopurinol, 66 (10%) received colchicine prophylaxis, and 126 (20%) reached the target uric acid level of ≤6 mg/dl. During episodes of renal insufficiency, appropriate dose reduction/discontinuation of probenecid was done in 24/31 episodes (77%) and of colchicine in 36/52 episodes (69%). Multivariable regression showed that higher outpatient utilization, more rheumatology care, and lower comorbidity were associated with better quality of care; more rheumatology clinic or primary care visits were associated with less frequent allopurinol discontinuation; more total outpatient visit days or most frequent visits to a rheumatology clinic were associated with a higher likelihood of receiving colchicine prophylaxis; and a lower Charlson Comorbidity Index or more outpatient visit days were associated with higher odds of reaching the target uric acid level of ≤6 mg/dl.
Conclusion: Important variations were found in patterns of medication use and monitoring in patients with gout with suboptimal care. A concerted effort is needed to improve the overall care of gout.
ADVERTISEMENT
SCROLL TO CONTINUE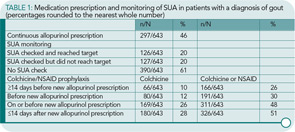 click for large version
TABLE 1: Medication prescription and monitoring of SUA in patients with a diagnosis of gout (percentages rounded to the nearest whole number)
Commentary
From an epidemiologic approach, gout is on the rise and is becoming a major public health problem. The prevalence in the United States has doubled since 1969, with an estimated 5.1 million affected people currently. The increasing incidence occurs most frequently in elderly men and postmenopausal women, and probably reflects the combined contribution of increasing longevity, increasing prevalence of comorbidities, and the high use rate of gout-predisposing medications such as diuretics and aspirin. The potential cost to our society of mismanaged gout is significant when one considers the associated disability. Thus, it is important that we all know how to manage gout and do it well. Using medications appropriately and understanding patient factors affecting use is key.