Bisphosphonates
Should Rheumatologists Watch for Osteonecrosis of the Jaw in Oral Bisphosphonate Users?
By Daniel Hal Solomon, MD, MPH
You Might Also Like
Explore This Issue
May 2009
Sedghizadeh PP, Stanley K, Caligiuri M, Hofkes S, Lowry B, Shuler CF. Oral bisphosphonate use and the prevalence of osteonecrosis of the jaw: An institutional inquiry. J Am Dent Assoc. 2009;140:61-66.
ADVERTISEMENT
SCROLL TO CONTINUE
Background: Initial reports of osteonecrosis of the jaw (ONJ) secondary to bisphosphonate (BP) therapy indicated that patients receiving BPs orally were at a negligible risk of developing ONJ compared with patients receiving BPs intravenously. The authors conducted a study to address a preliminary finding that ONJ secondary to oral BP therapy with alendronate sodium in a patient population at the University of Southern California was more common than previously suggested.
Methods: The authors queried an electronic medical record system to determine the number of patients with a history of alendronate use and all patients receiving alendronate who also were receiving treatment for ONJ.
ADVERTISEMENT
SCROLL TO CONTINUE
Results: The authors identified 208 patients with a history of alendronate use. They found that nine had active ONJ and were being treated in the school's clinics. These patients represented one in 23 of the patients receiving alendronate, or approximately 4% of the population.
Conclusions: This is the first large institutional study in the United States with respect to the epidemiology of ONJ and oral bisphosphonate use. Further studies along this line will help delineate more clearly the relationship between oral BP use and ONJ.
Clinical implications: The findings from this study indicated that even short-term oral use of alendronate led to ONJ in a subset of patients after certain dental procedures were performed. These findings have important therapeutic and preventive implications.
ADVERTISEMENT
SCROLL TO CONTINUE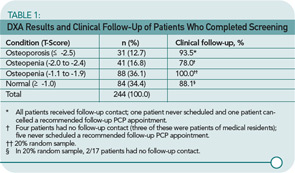 click for large version
Table 1: DXA Results and Clinical Follow-Up of Patients Who Completed Screening
Commentary
ONJ has been increasingly described in relation to the use of bisphosphonates (BRONJ). The original reports of BRONJ focused on patients receiving intravenous (IV) bisphosphonates to treat osseous manifestations of a variety of cancers. In addition, numerous case series have been reported, some including patients using bisphosphonates at the lower dosages to treat osteoporosis. In the last two years, both the American Academy of Oral and Maxillofacial Surgeons (AAOMS) and the American Society of Bone and Mineral Research have put out major position papers regarding BRONJ.1,2 The AAOMS has established a case definition that includes three criteria: 1) An area of exposed bone within the oral cavity; 2) No predisposing conditions (such as oral radiation therapy); and 3) Prior use of a bisphosphonate. In addition, a grading system has been established by the AAOMS and general treatment recommendations have been put forward.