LUPUS
Rituximab for Neuropsychiatric Lupus
By Robyn Domsic, MD
Tokunaga M, Saito K, Daisuke Kawabata D, et al. Efficacy of rituximab (anti-CD20) for refractory systemic lupus erythematosus involving the central nervous system. Ann Rheum Dis. 2007;66(4):470-475.
ADVERTISEMENT
SCROLL TO CONTINUE
Abstract
Aim: Neuropsychiatric systemic lupus erythematosus (NPSLE) is a serious treatment-resistant phenotype of systemic lupus erythematosus. A standard treatment for NPSLE is not available. This report describes the clinical and laboratory tests of 10 patients with NPSLE before and after rituximab treatment, including changes in lymphocyte phenotypes.
Methods: Rituximab was administered at different doses in 10 patients with refractory NPSLE, despite intensive treatment.
ADVERTISEMENT
SCROLL TO CONTINUE
Results: Treatment with rituximab resulted in rapid improvement of central nervous system (CNS)–related manifestations, particularly acute confusional state. Rituximab also improved cognitive dysfunction, psychosis, and seizure, and reduced the SLE Disease Activity Index Score at day 28 in all 10 patients. These effects lasted for more than one year in five patients. Flow cytometric analysis showed that rituximab down-regulated CD40 and CD80 on B cells and CD40L, CD69, and inducible costimulator on CD4+ T cells.
Conclusions: Rituximab rapidly improved refractory NPSLE, as evident by resolution of various clinical signs and symptoms and improvement of radiographic findings. The down-regulation of functional molecules on B and T cells suggests that rituximab modulates the interaction of activated B and T cells through costimulatory molecules. These results warrant further analysis of rituximab as treatment for NPSLE.
ADVERTISEMENT
SCROLL TO CONTINUE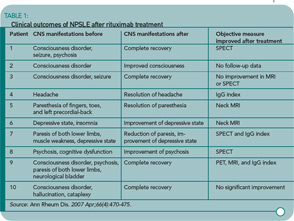 click for large version
Commentary
This study is the first case series reporting the outcomes with rituximab for CNS manifestations of lupus. Prior series have included patients with CNS involvement as one of their lupus manifestations, but improvement in CNS symptoms has not been the focus of these studies and received little more than a few sentences in the discussion. Interestingly, this article received the fourth highest number of hits in the month of April on the Annals of Rheumatic Disease Web site. This is not surprising since the use of rituximab in the treatment of rheumatic disease, particularly lupus, is a hot topic.
From the abstract, the study sounded convincing and I was excited about the use of rituximab for CNS lupus. Once I delved into the methods section, however, concerns began to arise. Allow me to review the inclusion criteria of the study: 1) highly active disease and 2) CNS lesions resistant to conventional treatment. If the latter criterion is strictly followed, then it is not clear how one individual with a headache and normal MRI and a second with mood disorder and a normal MRI qualify as two of the ten patients.