John Sharp, MD, died on September 14, 2008, at the age of 84, just two months after being diagnosed with pancreatic cancer. He had a profound influence on world rheumatology. Dr. Sharp developed the methods to measure radiographic damage in rheumatoid arthritis (RA). His work made it possible to understand the course of RA and to measure the effectiveness of disease-modifying antirheumatic drugs, including methotrexate, and biologic therapy.
His friends and colleagues learned of Dr. Sharp's impending death from an e-mail he sent in the last month of his life. He wrote: "Things are moving pretty fast so it is time to say goodbye while I still can." Then to each he wrote a personal note, a thank you, and remembrance. As the poet William Butler Yeats wrote: "Think where man's glory most begins and ends, and say my glory was I had such friends." For all those who knew Dr. Sharp, our glory was that we had such a friend.
John Thomas Sharp, MD, was born in Dalhart, Texas. He attended West Texas State College in Canyon and Antioch College in Yellow Springs, Ohio. He obtained his MD from Columbia University in New York City, and his rheumatology training at the Massachusetts General Hospital in Boston. During his long career, he was a member or chief of rheumatology divisions at the Massachusetts General Hospital; Henry Ford Hospital in Detroit; Baylor College of Medicine in Houston; University of Illinois Medical School in Champaign/Urbana; Rose Medical Center in Denver; the VA Hospital in Danville, Ill.; Emory University in Atlanta; and the University of Washington in Seattle. He was recognized as a Master by the ACR.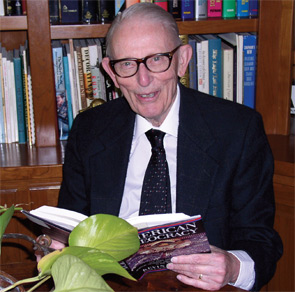 Dr. Sharp at his home on Bainbridge Island.
After his first retirement from the Joe and Betty Alford Arthritis Center in Denver, Dr. Sharp established a non-academic rheumatology practice in the underserved area of rural Tifton, Ga. Following his second retirement 10 years later, he intensified his research in radiographic methods and imaging techniques in RA, psoriatic arthritis, and osteoporosis.
Dr. Sharp had an endlessly inquisitive mind. In his 80s, he learned computer programming and languages, and statistics. He developed tools and methods for computerized reading of radiographs. At a time of life when many do less, Dr. Sharp continued to score radiographs for clinical trials, travelled the world for research meetings, "Skyped" colleagues everywhere, and pursued new research methods.
In 1996, Dr. Strand asked Dr. Sharp to meet with the Anti-inflammatory, Analgesic, and Ophthalmological Division of U.S. Food and Drug Administration to explain and demonstrate formal radiographic scoring of erosions and joint space narrowing in RA. This was the first set of formally scored films which demonstrated the efficacy of methotrexate (and leflunomide) in inhibiting radiographic progression. Thus began another busy and productive career for Dr. Sharp—he often kidded that this had "taken" his retirement. Dr. Sharp never advocated the use of the term "Sharp Score" but rather "composite method" for scoring radiographs. He was always interested in critically ascertaining comparability and reproducibility among the different scoring systems, rather than carving out unique recognition for himself.