In his self-described "zigzag" career, John S. Sergent, MD, has managed to keep returning to what he loves. As a member of his high school and college debate teams, for instance, he considered going to law school for a while. But, as he further studied biology and chemistry, he realized he loved the medical sciences. "And that was the end of that," he says.
In medical school, he originally intended to pursue surgery but found that he didn't like the operating room. "When I rotated through medicine," he recalls during a recent interview from his Nashville, Tenn., office at Vanderbilt University where, since 2003, he has served as vice chair for education and director of the residency program for Vanderbilt's Department of Medicine, "I just loved the complex diagnostic problems. I also really liked the fact that the bulk of clinical teaching was done by people in internal medicine. Early on, I had this image that I would like to be involved in medical education."
Dr. Sergent has been a clinical professor for much of his time in academia. But there have been other jobs, such as his eight years as chief medical officer for the Vanderbilt Medical Group, which was "definitely a right-angle turn in my career," he says. His current post is "really what I wanted to do my whole life."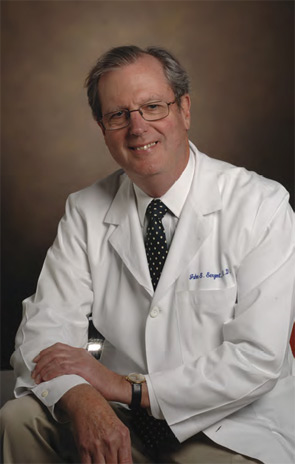 Dr. Sergent.
Passion for Rheumatology
Dr. Sergent's path to rheumatology was a bit serendipitous. He had applied as a fourth-year medical student to do his Public Health Service at the National Institutes of Health, fully expecting to work with an infectious disease expert. By the time he was finishing his residency at Johns Hopkins University in Baltimore, another director was taking over the lab and converting its focus to immunology. "I had enjoyed rheumatology while at Hopkins," Dr. Sergent explains, "and I found the immunology side of clinical medicine to be really interesting. Of course, immunology and rheumatology are closely related, and one thing led to another. I ended up doing a rheumatology fellowship under Dr. Charles Christian at Cornell [University Medical College in New York], and I never looked back."
It is lucky for the field of rheumatology that he didn't, because many top rheumatologists credit him with their choice of specialty. In 1976, John P. Vansant, MD, was one of a group of young house staff at Vanderbilt University inspired to specialize in rheumatology. The catalyst for his choice was "a young, charismatic, extremely knowledgeable, outgoing, and energetic guy who convinced a host of medicine residents that the most exciting and challenging future of medicine was to be found in the field of rheumatology/immunology," he recalls. Dr. Sergent had just returned a year earlier to his alma mater to become its first section chief of rheumatology. His enthusiasm, recalls Dr. Vansant, was infectious. "All of a sudden, many of us became very much indoctrinated into the world of John Sergent's excitement for the rapidly advancing world of rheumatic disease."